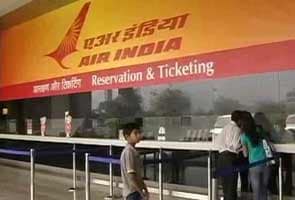 New Delhi:
Over a 100 Air India pilots have gone on strike since last night, and more are likely to join in today. This has led to disruptions in Air India's international operations with five flights cancelled.
1. Air India has reportedly sacked ten pilots after a strike that has led to cancellation of five international flights since last night. After 157 Air India pilots reported sick, the management sent medical teams to the pilots' residences. Indian Pilots Guild (IPG), an association with which the agitating pilots are associated with, has also been derecognised since midnight.
2. Two Air India flights from Delhi to Chicago and Toronto and two from Mumbai to New Jersey and Hong Kong have been cancelled since Monday night. The threat of a strike was looming large since Saturday after a section of pilots reported sick, following which an international flight was cancelled and two more were delayed by over 16 hours.
3. Civil Aviation minister Ajit Singh said that he believes "the time for national carriers is gone" and that the government "cannot and should not run any service industry. However, Ajit Singh told NDTV that "Even if we want to sell it, first we have to bring it up to that level where someone will be interested in investing in it." He pointed out that closing down the national airline, which has been guzzling thousands of crores in bailout packages, would have serious repercussions, including a possible hike in air fares. He also said that Air India has 17% of passenger traffic currently.
4. The strike comes a month after the government cleared a massive Rs 30,000 crore bail-out package for the national carrier. According to the proposal, the government will write off Rs 4,500 crore cash loss of Air India, infusing an additional equity of Rs 6,750 crore and Rs 17,000-18,000 crore for its fleet acquisition programme. This was after Air India's total debt had accumulated to Rs 43,777.01 crore.
5. The current protest is primarily being carried out by the pilots owing allegiance to the Indian Pilots Guild (IPG), who belong to the pre-merger Air India. According to reports, the pilots are protesting over the time-bound promotion. They say former Indian Airlines pilots are eligible for a promotion after every three years as per agreement while the old Air India pilots have been fighting for this for years.
6. Earlier, there were reports that the agitating pilots were unhappy with the management's decision to train their colleagues from the pre-merger Indian Airlines first to fly the long-haul Dreamliner plane, which is expected to arrive later this month. The former Indian Airlines pilots, represented by the Indian Commercial Pilots Association (ICPA), had moved the court protesting that the airline was only sending the pre-merger Air India cockpit crew for training on the Boeing 787s. The Supreme Court had ruled that the management would deploy an equal number of pilots from both pre-merger Indian Airlines and Air India.
7. In March this year, a major chunk of Air India's over 28,000 employees had threatened to go on strike from April 2 over non-payment of salaries and dues. The proposed strike was called off on March 30 after the national carrier promised to clear all salaries and other dues by June.
8. The notice for 'no pay, no work' agitation had been given by eight major unions of the airline, representing pilots, engineers and cabin crew among others, to protest the delay in payment of their salaries, productivity-linked incentive (PLI) and other allowances by over three months.
9. In January this year, 52 flights were cancelled in a day after 40 pilots called in sick in protest against non-payment of their pending salary arrears. The pilots had said that the payment of productivity-linked incentive (PLI) and flying allowances had been pending since August 2011. The flying allowances constitute 80 per cent of the pay package for pilots.
10. There were also reports in November 2011 that over 100 Air India pilots had threatened to quit, charging the management with adopting discriminatory attitude against them and stalling their career progression. However, the Air India management had denied the reports.