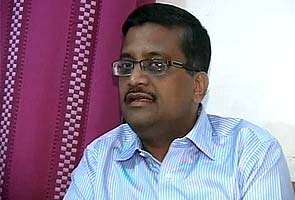 Chandigarh:
Senior Haryana IAS officer Ashok Khemka, who stirred a political storm by alleging irregularities in the Robert Vadra-DLF land deals, on Friday said he had got two threat calls within a fortnight and accused the police of not taking any action.
Late on Friday night, the Haryana police said it has arrested one person who allegedly made a threat call to Mr Khemka.
Panchkula Deputy Commissioner of Police (DCP) Parul Kush Jain told PTI that Umaid Singh had been arrested after verifying the call details in this connection.
Umaid Singh was an employee of the Haryana Housing Board and was dismissed from service by Mr Khemka in 2006 when he was administrator of the board, she said.
The arrest had been made in Gurgaon, she said. Umaid Singh is a resident of Gurgaon.
Earlier, Mr Khemka said, "I fail to understand why police is taking time to identify the caller...police is wasting precious time...it is unprofessional on the part of police."
Mr Khemka claimed to have received two threat calls.
On whether he will press for security cover in the wake of threat calls to him, he said, "I don't think security cover will help in stopping such calls."
Police earlier registered an FIR under sections 506 (criminal intimidation) and 509 (act intended to insult the modesty of a woman) of the Indian Penal Code (IPC) against unknown person in connection with the threat calls and also sought help of cyber experts to track the caller.
"The caller, according to the complaint, used abusive language and threatened Khemka," Nupur Bishnoi, in-charge of Panchkula's Sector 5 police station, where the complaint has been lodged, said.
A fortnight back, the 1991-batch IAS officer's friend and noted lawyer, Anupam Gupta had said that Mr Khemka had received threat calls from unknown people.
Mr Khemka was transferred from Director General Consolidation of Land Holdings and Land Records-cum-Inspector General of Registration to his present posting in the State's Seed Development Corporation shortly after he initiated a probe into land dealings between Mr Vadra and realty giant DLF.
A probe report submitted by four deputy commissioners in Haryana have given a "clean chit" to Mr Vadra over his land deals.