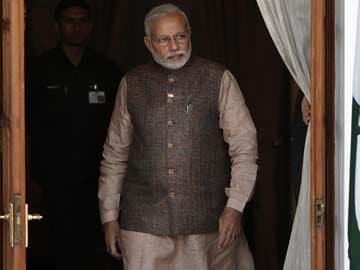 New Delhi:
Singed by its Insurance Bill experience, the
Narendra Modi
government is treading more cautiously on its move to scrap the collegium system for the selection of judges for High Courts and the Supreme Court.
Before the Cabinet clears the Judicial Appointments Commission Bill that will amend the law, it is attempting to build consensus with Law Minister
Ravi Shankar Prasad
writing to 26 parties for their views. Sources said while several parties have expressed support, main opposition party, the Congress, is yet to respond.
The bill was introduced in Parliament by the previous Congress-led UPA government last year, but as the ruling BJP has learnt, that does not guarantee the Congress' support. It has since last week led at least 10 opposition parties in blocking the government on a major reform - the Insurance Bill, which allows foreign companies to invest up to 49 per cent in Indian insurance companies, up from 26 per cent. (
Judicial Appointments Commission Bill passed in Rajya Sabha
)
The Congress had repeatedly tried to push the bill to raise the Foreign Direct Investment or FDI cap in insurance when it was in power, but now says it wants the BJP's version reviewed by an all-party Rajya Sabha panel. To do that will mean at least a six-month delay in the bill being passed. (
Judicial Appointments Commission bill approved by government
)
The government is keen to pass both the Insurance Bill and the Judicial Commission Bill in the ongoing Parliament session, which ends next week.
While it has a comfortable majority in the Lok Sabha, the Modi government is in a minority in the Rajya Sabha and needs the support of opposition parties to push legislation through. For the Judicial Commission Bill, it needs that support even more. The bill aims at a constitutional amendment, which require two-thirds of each House to approve it. The BJP-led NDA does not have that strength in either House.
The Judicial Appointments Commission Bill sets up a six-member national panel to select the members of the higher judiciary, who are currently picked by a collegium of five of the country's seniormost judges. The proposed commission will be headed by the Chief Justice of India and will have as its members two judges of the Supreme Court, the Union Law Minister and two eminent jurists. (
Most Top Jurors Want Collegium System to Be Changed, Attorney General Tells NDTV
)
Members of the judiciary have made clear they prefer the collegium system.