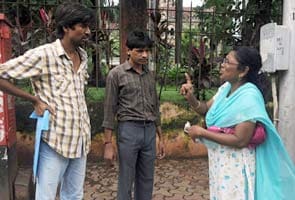 Mumbai:
At a bus stop in south Mumbai, a man hawks loudly before expelling a mouthful of brown saliva into the road without a second thought -- but unfortunately for him, the spit inspector is watching.
Rajeshree Rajaram Kamble, a 53-year-old grandmother dressed in a flowery tunic with matching blue shawl and trousers, strides towards her prey and firmly requests a fine of 200 rupees ($3.60).
The man appears surprised by her finger-waggling admonishment, and says he does not have any money on him.
"You can wash it away," Kamble retorts, marching him to a nearby sugarcane juice stall to get some water. "If you don't wash it, then you can take off your clothes and clean it."
The man is still reluctant and their row gets increasingly heated.
Onlookers pause to watch as voices are raised -- "Sorry is not enough!" Kamble insists -- until the man relents and sheepishly rinses away the evidence.
For Kamble, such altercations are just part of the job. "Everyday I fight with people," she told AFP. "Nobody is interested in paying the fine."
Working for the Municipal Corporation of Greater Mumbai (MCGM), she is one of 25 "nuisance detectors" taking on grown men and women every day over offences such as public littering, urinating and bathing on the street.
In such a dirty and overcrowded city, Kamble faces an uphill battle but refuses to admit defeat against habits such as spitting, which health experts believe may help to spread tuberculosis.
"Every time I see someone spitting, something happens inside me. My blood boils and I get very angry," said Kamble, who goes out on patrol armed with just a plastic identity tag and fine receipt book.
Spitting in a public place, unless a spittoon is provided, is banned under a 2006 Mumbai by-law.
But across the country, many Indians spit regularly at street corners, out of car windows, onto and even inside buildings: few spaces are spared, especially from those who chew various mixtures of tobacco and areca nut.
In a boost for the anti-spit brigade, Maharashtra state -- of which Mumbai is the capital -- is among several states to recently ban "gutka", a mass-produced mix that is widely chewed and spat out, staining the streets.
Raja Narasimhan, who set up the Spit Free India Campaign, does not have high hopes of a hygiene revolution on spitting, with gutka still found on the black market and its ingredients available separately.
"There's no way you can stop it," he said. "Even people driving or riding in a Mercedes roll down the window and spit."
Traditional handmade "paan" (areca and flavourings wrapped in betel leaf, sometimes with tobacco) remains a hugely popular palate cleanser.
The 200 rupee fine is more than a day's pay for some Mumbai citizens, and in the year to July, roughly 170,000 spitting penalties were collected in the city, according to Seema Redkar at the MCGM's solid waste management department.
Health risks
As well as the nuisance detectors, hundreds of "clean-up marshals" deployed through private agencies were introduced in 2007 to help enforce cleanliness byelaws, but they have been dogged by allegations of misconduct.
The public's attitude is partly to blame, said Redkar. "Culturally we're not ready to pay fines".
Other novel attempts to halt spitting have struggled. Local activist Vijay Sangole tried sticking up pictures of Hindu gods at popular spitters' spots in a bid to make offenders think twice.
"They were not deterred at all," he said. "There's absolutely no civic sense."
More concerning are the health risks that spitting poses.
While the link between spitting and the spread of TB has not been widely studied, "logically it's very much possible", said Soumya Swaminathan, director of the Chennai-based National Institute for Research in Tuberculosis.
She said the bacteria of TB, an airborne disease that kills about 1,000 people a day in India, could be spat out into dust particles and then inhaled by others.
"It can survive for quite a long time," she said.
Since March, health officials in Mumbai have been distributing anti-TB posters and leaflets containing simple pictorial warnings against spitting and openly coughing.
But many doubt whether such campaigns can be effective.
"Our view is that awareness stickers have really minimal impact. Most people find it hard to make these connections," said Ram Prasad at Final Mile, a behavioural research group in Mumbai.
The conventional "do not spit" signs that currently dot Mumbai may even encourage new spitters.
"If we keep communicating that a lot of people spit, it kind of becomes a norm and hence acceptable," warned Prasad.
Old habits may die hard, but Kamble remains convinced that her mission can make a difference.
"I feel proud of raising awareness in society," she said.