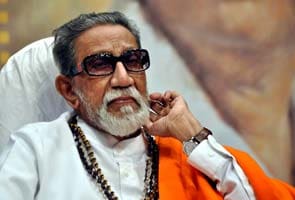 Mumbai:
On his father late Bal Thacekray's birth anniversary today, Shiv Sena's executive president Uddhav Thackeray is likely to be appointed as the party's president.
At central Mumbai's Lalbaug, preparations are on for the celebration of late Shiv Sena chief's birth anniversary. Part of the festivities include distribution of knives to women supporters. Sena worker Sada Shiv, who is over-seeing the preparations at Ganesh Galli, says he expects around 3000 women to attend the celebrations. "We will distribute knives to all," he said.
"Bal Thackeray used to say women should prefer a Rampuri in their purse rather than a lipstick," the right wing Shiv Sena's South Region head Ajay Chaudhry said when asked about the inspiration behind the plan. "This government has failed to provide security to women so we are distributing these knives to empower them," he added.
The knives that the party plans to distribute are small retractable Chinese knives with a sharp three-inch blade.
Sena MP Bharat Raut however told NDTV that "this is something that's being done at a shakha (block) level." He said he was not aware if this had the support and blessings of Sena's top leadership.
Uddhav Thackeray along with actor Amitabh Bachchan is also expected to launch the '
Swacch Mumbai Prabodhan Abhiyan
' - a drive aimed at cleaning Mumbai's slums at around 3 pm today. He will also inaugurate the virtual classrooms of the Brihanmumbai Municipal Corporation or the BMC.