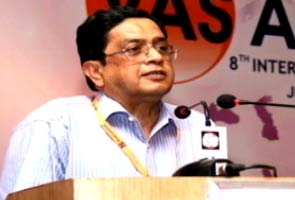 New Delhi:
PJ Thomas, who was removed as Central Vigilance Commissioner (CVC) by the Supreme Court recently, has appealed to the President.
On March 3, the Supreme Court quashed the appointment of Thomas as CVC, holding that the recommendation made by the high-powered panel - headed by Prime Minister Manmohan Singh - did not consider chargesheet relating to a corruption case pending against him and therefore, its advice "does not exist in law".
Thomas claimed that judiciary has no right to decide his eligibility for the post without prior reference from the President.
Thomas' lawyer Wills Mathews told NDTV that the Supreme Court judgement was illegal.
"We have requested the President to invoke Article 143...The reason is that three judges' judgement on the CVC is not legally valid because Article 145(3) clearly says that the minimum number of judges required for interpretation of Constitution is five. In effect this judgement is null and void," he said.
"Once it is null and void, it cannot be reviewed. That means there is a Constitutional crisis," Mathews said.
He said only the President can invoke Article 143 and consult the Supreme Court on the legality and validity of the judgement by a three judges' bench.
"Today we submitted a representation to the President's office in this regard," he added.
Read the complete plea here:
Matthews had earlier said that Thomas was waiting for the Centre to file a review petition and in the event of it not being filed, the former CVC would file it before April 2.
A review petition has to be filed within 30 days of the judgement.
Thomas, in his review petition, has submitted that the Supreme Court should not have quashed his appointment without first allowing him to establish his innocence or otherwise in the palmolein case.