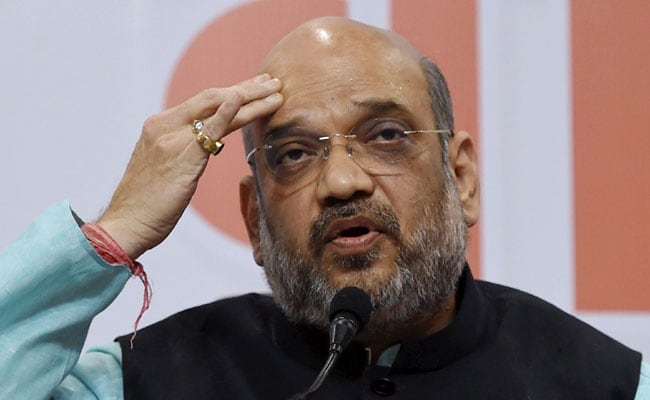 Highlights
BJP-led government celebrates three years in office
Modi government promised 2 crore jobs annually, fell far short: Congress
Government has made 8 crore people self-employed: Amit Shah
New Delhi:
BJP President Amit Shah on Friday said the Narendra Modi government is the "most decisive and transparent" the country has seen, without a single case of corruption against it, and its rule in the last three years has ended casteism, family rule and appeasement politics. Addressing a press conference to mark
the third anniversary of the Modi government
, Mr Shah said what could not be achieved in the last 70 years was achieved by this government in the short period. He also brushed aside concerns over unemployment, saying it was not possible to give jobs to every person in a country of 125 crore.
"We have tried to give new perspective to employment as it is not possible to provide employment to everyone in a country of 125 crore people. We are promoting self-employment and the government has made eight crore people self-employed," Mr Shah told reporters.
The comments came amid renewed attack by the Opposition on the government's employment numbers.
"Modi government had promised to give employment to two crore youths annually but actually it had been able to give jobs to only 1.35 lakh people in 2015 and in 2016 too it could give jobs to about as many people," Congress spokesman Abhishek Manu Singhvi said at a press conference yesterday.
But slamming the previous Congress-led UPA government, Mr Shah said the earlier political establishment was marked by policy paralysis and a string of scams. In contrast, even the opposition parties have not been able to level a single charge of corruption against the Modi government, he claimed.
"The BJP government under Modiji is the most decisive and transparent government, not a paralysed government," Mr Shah said.
Prime Minister Narendra Modi's government is celebrating three years in office this month in events scheduled for three weeks. The programmes have been titled MODI Fests (Making of Developing India Festivals), which allow the BJP to push the Prime Minister's name while also acronym-ing, a favourite tactic of the party.
(With inputs from IANS and PTI)
For more stories on three years of the Modi government,
click here
.