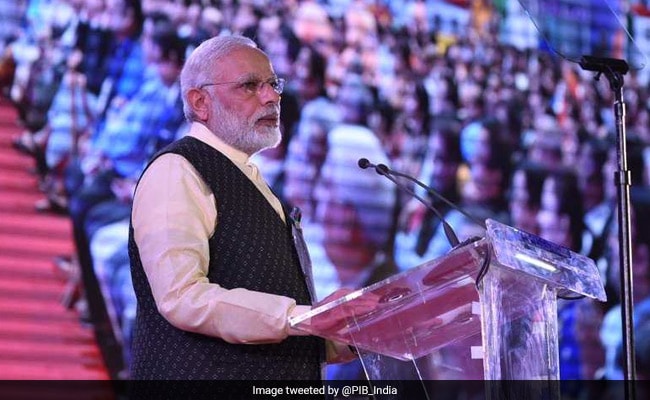 Highlights
PM Modi said government is not afraid of taking "big and tough" calls
He said notes ban was done to check black money
PM Modi was speaking to the Indian diaspora in Myanmar
Yangon:
Prime Minister Narendra Modi said on Wednesday that decisions like demonetisation were taken without fear or hesitation, asserting that his government is not afraid of taking "big and tough" decisions in the interest of the country.
"In the national interest, we are not afraid of taking big and tough decisions because for us, the country is above politics. Be it the surgical strikes, demonetisation or GST, all decisions were taken without any fear or hesitation," PM Modi said, defending his economic decisions before the Indian diaspora in Myanmar last evening.
The PM's comments come in the middle of criticism from economists, analysts and the opposition over the government's key decisions. Recently, the criticism peaked after the Reserve Bank of India said in its annual report that most of the estimated Rs. 15.4 lakh crore in banned notes had been returned.
On the notes ban, the prime minister said the step was taken to check black money and that it had helped identify lakhs of people who had crores of rupees in bank accounts but never paid income tax.
He also said that registration of over two lakh companies had been cancelled in the last three months after they were found money-laundering.
"To deal with corruption, we banned currency notes of Rs. 500 and Rs. 1000 denomination. A handful of corrupt people were making 125 crore people pay for their misdeeds. This was not acceptable to us," PM Modi said in his 35-minute address.
"There used to be no clue as to from where black money was coming and where it was going," he said.
The prime minister also talked about Goods and Services Tax or GST, saying an "atmosphere of doing business with honesty" had been created in the country within a span of two months after its launch. The Prime Minister said that over the last three years, his government had initiated massive changes and rules were being eased to unshackle the potential of the country.
"Now, the people of the country have begun believing that India can move forward. The shackles can be broken," he said.
"We are not merely reforming India but transforming India. We are not changing India, but we are building a new India," he said, adding 2022 was the target year to achieve this as it coincides with the 75th anniversary of the country's independence.
He talked about the pledge to rid the country of problems like terrorism, communalism and corruption.
(With inputs from PTI)