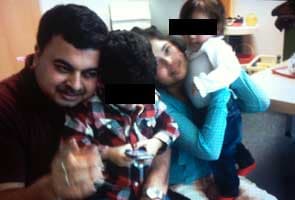 New Delhi:
After hitting near-crisis mode, India's case to bring back two young children placed in foster care in Norway appears to be back on track. Sources say the agreement to be presented in the Norwegian District Court has been signed by the parents and the uncle under the supervision of Indian authorities. The agreement says one-year-old Aishwarya and three-year-old Abhigyan will be placed in the custody of their father's brother, Arunabhas Bhattacharya.
India has spent three months backing the children's parents, Anurup and Sagarika Bhattcharya, in their demand that the children be allowed to come back to India. The children were placed in foster care last May by child welfare officials who decided the Bhattacharyas were unfit parents and their son suffered from an attachment disorder and needed better care. A series of visits by Indian diplomats convinced Norwegian authorities to assess Mr Anurup's brother as a possible care-giver. He has been visiting his niece and nephew supervised by child welfare officials.
But over the weekend, Mr Anurup was quoted by a series of newspapers as saying that he was planning to separate from his wife who is physically abusive. Sources in the Indian government said he had told Norwegian authorities that he would prefer his children to stay there. His brother had also allegedly said that he no longer wanted to look after the children because he was worried of a long legal dispute with their mother if the children were to return to India. That left the Indian government deeply embarrassed and yesterday, it asked its officials in Norway to talk to the Bhattacharyas for a clear understanding of their position. Meanwhile, child welfare officials issued a statement saying that the new family dispute would not allow them to hand the children to the Bhattacharyas or their relatives.
Mr Anurup told NDTV yesterday that his wife and he remain committed to bring their children home with Mr Arunabhas as their legal guardian. The statement will now be put forth to the Stavanger District court that needs to be convinced that it is best for children to return to India with their uncle. With the Indian diplomats backing the parents, the Norwegians will be under pressure again to not make fresh demands to dictate terms that they assess as necessary for children's well being with the uncle.