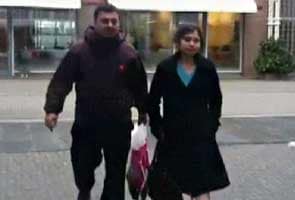 Kolkata:
The Norway child custody case involving an NRI couple which has already sparked off a diplomatic row has taken a curious turn following the husband and his parents alleging that the wife had "psychological problems".
Anurup Bhattacharya, a geophysicist and the father of two children Abhigyan aged three and one-year-old Aishwarya, who were taken into care by Norwegian social services, has accused his wife Sagarika of having "psychological problem" and is mulling separation from her.
"Yes, Anurup is mulling legal separation from his wife as she suffers from acute schizophrenia. Last night (Monday) Sagarika attacked my son and badly injured him. Since then, he has fled from her and is living elsewhere. She has been attacking him for long," Anurup's father Ajay Bhattacharya told IANS.
"Anurup came to know about her mental disorder shortly after their marriage in 2007 and has been tolerating her bad behaviour ever since. But now he cannot take it anymore. He had kept quiet till now to get back the custody of his children," he added.
He also said that the Norwegian child care authorities are also aware about her illness as they had been observing Sagarika for long.
The two children have been in foster care since May last year after child welfare officials in Norway decided that their parents were negligent.
After the Indian government's intervention, the authorities had agreed to recommend to a court in Norway on March 23 that the children be placed in the custody of their uncle Arunabhas Bhattacharya.
Amid public outrage and protests by the opposition, India last month had sent special envoy Madhusudhan Ganapathi, secretary (West) in the external affairs ministry, to Norway to urge the authorities to help facilitate an early return of the children to India.