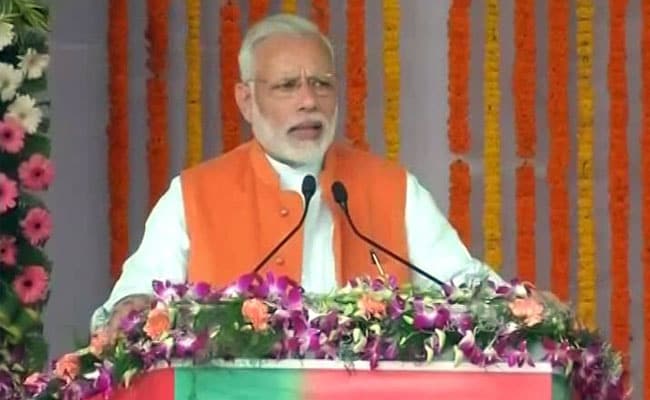 New Delhi:
The poor are sleeping peacefully and the rich need sleeping pills - Prime Minister Narendra Modi was attacked by the opposition today as he repeated these comments in Uttar Pradesh while defending his decision to suddenly take the two biggest currency notes out of circulation to crack down on black or undeclared wealth.
"PM's remarks are an insult to commoners and in bad taste," Bengal Chief Minister Mamata Banerjee posted on twitter. The BJP responded by describing her as the "queen of Saradha", referring to the multicrore chit fund scam in which many Trinamool leaders are accused.
Ms Banerjee, the first to demand, in all caps, that the government withdraw the "draconian" ban on Rs 500 and Rs 1,000 notes, has been working the phones to rally opposition forces against the move ahead of the winter session of parliament starting Wednesday.
Yesterday, she dialed CPM leader Sitaram Yechury and urged him to join the fight against the notes ban.
Mr Yechury confirmed the call to reporters today. Strongly criticizing the demonetization move, the senior Left leader said: "I was listening to the PM saying the poor are sleeping peacefully and the rich need pills. I think the PM is a galaxy away from reality. If preparations were on for 10 months...why are we caught unprepared?"
Mr Yechury said he had been carrying a Rs 2,000 note from the bank for four days. "Nobody is accepting it. I can't use it to buy food on the train, I can't even have a cup of coffee on the roadside," he shared.
Arvind Kejriwal, the Chief Minister of Delhi, said: "It is the poor who are camping outside banks and it is Modi's friends who are sleeping peacefully."
Opposition lawmakers are planning to march to parliament on Wednesday against the government's decision, which, they say, has come at a heavy cost to the common man.
Citing large crowds outside ATMs and banks, the parties say people are running out of patience.
PM Modi ripped into the opposition parties and quipped: "Some people are feeling unusually troubled by my decision."
The Prime Minister took several digs at the Congress, referencing the Emergency of 1975-77. "Congress turned the country into prison for 19 months, to stay in power. I am asking for 50 days of difficulties for the good of the country," he said in Uttar Pradesh, where polls will be held early next year.