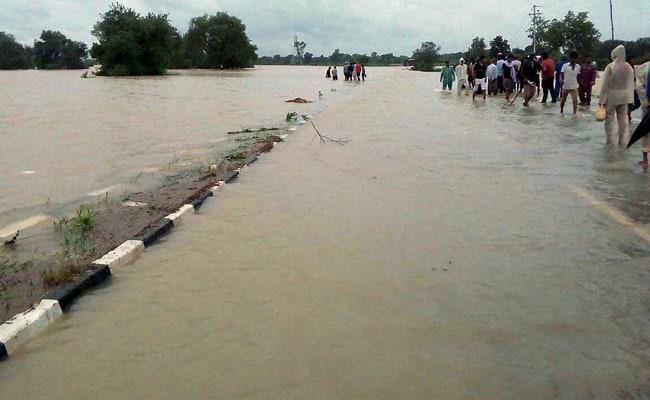 Highlights
17 people have died, over 4,000 people have been rescued
Water has receded but heavy rainfall is expected tomorrow
Villagers complain of not being informed about heavy rain forecast
In Madhya Pradesh's Satna district, 10-year-old Sanjeet Bansal put his textbooks out to dry this morning. The books had got wet as the Tamas rives flowed into his home in Sonwari village. Though the water has receded a little, the met department has predicted more rain. But Sanjeet and his family are unaware and unprepared.
Reena Bansal, Sanjeet's sister, said:" We were rescued on a boat. We ran with our children. Our house has collapsed. We were at relief camp. But we came back after a building collapsed there. We had got scared."
The floods in parts of Madhya Pradesh, which has cost 17 lives, continues despite receding water. Altogether, 4,500 people have been rescued but heavy rainfall is expected tomorrow.
Satna and Rewa districts, which were hit by torrential rainfall leading to overflow of the river Tamas last Thursday, are the worst-affected.
People brought back to their villages from the relief camps complained about not being informed about the heavy rain forecast. "The government did not tell us about the weather forecast," said Reena Bansal.
A building collapsed in Maihar village which killed 45-year-old Bablu Martin, a social worker, while he tried to rescue two children.
Chief Minister Shivraj Chouhan said, "The administration is alert and I have ordered them to provide food and clean water to the displaced. Weather warning administration will take adequate steps when needed."
Two other states through which Ganga flows, have also been heavily affected.
In eastern Uttar Pradesh's Ballia district, which borders Bihar, Ganga and its tributaries are flowing above the danger mark. The highway and many villages are under water. The state government says 200 boats are rescuing people and a team from the National Disaster Relief Force or NDRF, is at work, but many are still waiting for help.
In Allahabad and adjoining Bundelkhand, floods have affected many villages as both Ganga and the Ken rivers have been overflowing for the last few days.
"There is a lot of water around us. So far no one from the government has come to help us," said one of the villagers, Ramji.
In Bihar, low-lying areas of Patna are flooded, the state government and NDRF teams are evacuating people. The army and the air force have been put on standby for rescue work. The Chapra-Hajipur highway is flooded and no traffic movement has been possible.
Floodwaters are raging in Rajasthan too, caused by heavy rainfall in Baran district bordering Madhya Pradesh. Chabra , Cheepabardot and Kawai are under water and there have been many rain related deaths. In Chittorgarh, gates of 2 dams had to be opened, resulting in the flooding of low-lying areas. The Air Force is rescuing people stranded across 56 submerged villages.