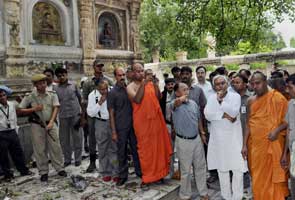 Gaya:
Bihar Chief Minister Nitish Kumar today strongly condemned the blasts in and around Mahabodhi temple in Bodhgaya and demanded deployment of the Central Industrial Security Force (CISF) to protect the world famous Buddhist shrine.
"The serial blasts deserve strongest condemnation in strongest possible words as the perpetrators targeted the place of religious faith of crores of people with an aim to create fear among them," he told reporters after inspecting the blast sites at the Mahabodhi temple and surrounding areas in Gaya district with senior civil and police officials.
Mr Kumar however dismissed suggestions that there was any security lapse and said adequate precautionary measures were taken to beef up security measures at the Mahabodhi temple and surrounding areas after intelligence inputs.
The Chief Minister said that the National Investigation Agency and local police will probe the incident and expose the conspiracy and designs of those behind the attack.
He said it was clear that the serial blasts at the famous Buddhist shrine and surrounding areas were carried out to create fear among the pilgrims and divide society.
He said that a forensic team from Patna has already rushed to the spot to collect evidence and other material proofs related to the attack.
An NIA team from Delhi will arrive in the afternoon to probe the incident, the Chief Minister said.