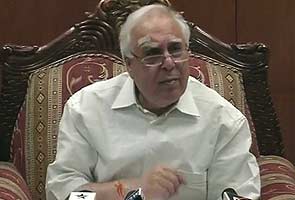 New Delhi:
The Telecom Department was the arguably unlikely birthing ground for India's largest-ever scam. A Raja, the minister who allegedly helmed the swindle, is now in jail - large amounts of frequency were virtually donated along with mobile network licenses to companies that were ineligible for them. New Telecom Minister Kapil Sibal has announced a new set of rules today that aim at cleansing a system that seemed designed for manipulation.
So Mr Sibal's Telecom Policy 2011 deems that the licenses of all operators will be renewed every 10 years instead the 20-year-term that was on offer.
To ensure spectrum is not being wasted or under-utilized, operators will be audited for efficiency - several telecoms have yet to deliver the services they signed up for in 2008. Spectrum will no longer be bundled with licenses - so when telecom operators ask to renew their licenses, they'll have to pay separately for frequency. Also, spectrum will be priced at market rates - making it much more expensive. The Telecom Regulatory Authority of India (TRAI) is working on the prices.
To ensure transparency, there will only be on type of license issued now - the unified license. So far, companies got different licenses depending on the type of services they provided. License fees will be uniform across the country - currently, how much telecom operators pay annually depends on the area that they're providing services to.
Mergers and acquisitions will be made easier - to allow consolidation in what many describe as an over-crowded sector.
"The move by the minister to delink spectrum from licence and to try and ease merger rules are steps in the right direction," said Rajat Mukerjea who heads Corporate Affairs for Idea, a telecom operator.
The Opposition referred to Mr Sibal's infamous statement where he had declared that the telecom policies of the government had not resulted in any losses to the country.
"Coming from a minister who thought there was no scam or loss to the exchequer... we look forward to the changes and cleansing the system," said the BJP's Nirmala Sitharaman.