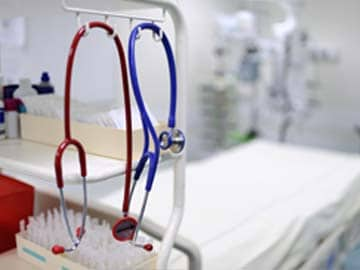 Nagpur:
The Union Health Ministry, which has drawn new guidelines for treating rape victims, has asked all hospitals to set up a designated room for forensic and medical examination of victims besides outlawing the two-finger test performed on them, dubbing it as unscientific.
The Department of Health Research (DHR) along with Indian Council of Medical Research (ICMR) with the help of experts formulated this set of national guidelines for dealing with criminal assault cases, which will hopefully put an end to the "horrendous" medical process, which the victims are subjected to after the sexual abuse.
The DHR has also drafted a new manual to address the psycho-social impact of sexual violence including counselling that the victims should receive to alleviate her woes.
These guidelines have been made available to health care providers who work with victims of sexual violence.
An experts' group on Gender and Health was formed by Dr V M Katoch, Secretary to GOI-DHR and Director General ICMR in November 2011 under the chairmanship of Dr M E Khan (Secretary, Sexual Violence Research Initiative) to formulate these guidelines which can be used at Primary Health Centres and district hospitals whenever a rape victim approaches them.
Later, Indrajit Khandekar, in-charge Clinical Forensic Medicine Unit (CFMU) & Associate professor at Mahatma Gandhi Institute of Medical Sciences (MGIMS) Sevagram- Wardha (on whose study report titled "pitiable & horrendous quality of forensic medical examination of sexual assault cases" a PIL was filed in Bombay High Court) was given the responsibility to draft these guidelines.
The guidelines drafted were made available to public and experts and their opinion was sought.
Following this, the guidelines were released for circulation on December 16, 2013.
Mr Khandekar, who pursued the matter single handedly, told PTI that he had successfully impressed upon the state government on how to handle such cases and now at national level too, the Centre has come out with fresh guidelines.
"It has been observed that the rape victims are usually put under a horribly judgemental microscope from the moment they call up the cops. They are often subjected to judgmentally attitudes by both the doctors and other medical staff in the hospital. The new guidelines include that every hospital must have a designated room to deal with Medico Legal Cases (MLC) of sexual assault to provide privacy to the victim and must have essential equipments listed in the guidelines," he said.
There must be provisions to provide alternative clothing for the victims and smooth collection of MLC evidence keeping in mind the sensitivity of the circumstances.
Also, there must be training sessions for sensitising doctors and other medical staff for the protocols and guidelines for MLC examination/reporting of such cases, it has been outlined.
As per the guidelines, while carrying out medical tests no third person must be present in the room other than the doctor. If the doctor is male, a female attendant must be there, Mr Khandekar said.
The new set of rules also provide comprehensive care which must address issues like physical injuries, STDs, HIV, Hepatitis B, etc. Also the psychological effects must be recognised and the patient shall be provided counselling, social support and appropriate referrals, it said.
The maligned two-finger test that was used by doctors to opine whether the girl is habituated to sexual intercourse or not, has been outlawed and the manual recognises that it is no way scientific and shall not be performed.
Doctors are asked not to use word rape in their opinion, as it is a legal definition and not a medical diagnosis.
For the first time, names of samples, its preservative and purpose of analysis for forensic lab has to be printed itself on the form before sending it to FSL (forensic science lab). This will avoid inadequate preservation of sample and analysis of sample for wrong purpose, the guidelines said.
A provision for DNA analysis has also been done. A separate form for medical management as a check list has been provided too.
In the past, rape survivor examination was done only after receiving police requisition. Now this is not mandatory for a rape survivor seeking medical examination and care. The doctors should examine such cases without an FIR if the survivor reports to the hospital first.
Also, it is now mandatory for the forensic medical report to state precisely the reasons for each conclusion.
Obtaining "informed consent" of the victim is mandatory before starting treatment and so is informing the police (parents and guardians in case the patient is below 12 years or not in a position to give her consent).
The guidelines say that doctors are required to give the patient a structured explanation of what the examination comprises and how the various procedures may be carried out.
All this should be explained in the manner and language which the patient can understand. These guidelines, if properly implemented, will definitely plug the various loopholes present and thereby will help avoid miscarriage of justice and human rights violation, said Mr Khandekar.
Dr H Nagesh Prabhu, Joint Secretary (DHR) Dr K Satyanarayana, Dr Arvind Nath were the coordinator of this project to draw guidelines.