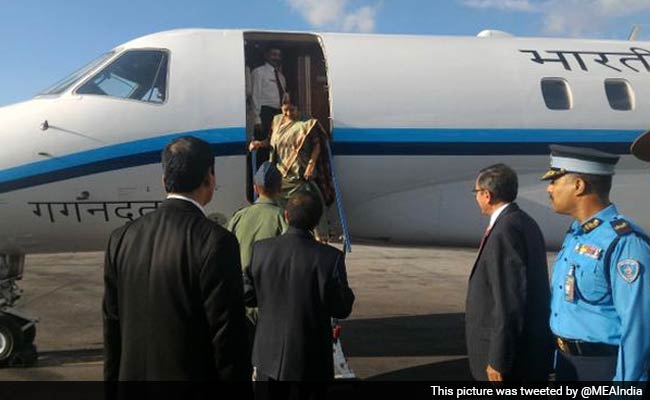 Kathmandu:
External Affairs Minister Sushma Swaraj today arrived in Kathmandu on a two-day visit to Nepal to attend an international donors' conference where she is likely to announce a major financial package by India for reconstruction of the quake-hit nation.
Ms Swaraj was received by India's Ambassador to Nepal Ranjit Rae and other top officials of the embassy at the airport.
The International Conference on Nepal's Reconstruction (ICNR) has been organised by the Nepalese government to raise funds for carrying out rebuilding of areas devastated by the massive earthquake of April 25 which claimed nearly 9,000 lives.
Nepal's Prime Minister Sushil Koirala had this month called up Prime Minister Narendra Modi to invite him for the conference. However, Mr Modi decided to nominate Ms Swaraj for ICNR.
At least 35 countries are expected to attend the conference to be held in Kathmandu tomorrow.
Ahead of the meet, Mr Koirala said there has been a "big gap" between what Nepal was able to do and what needs to be done.
He said Nepal's resources alone are not enough to meet the "unforeseen and pressing challenges" and called upon international community to help the country.
Nepal's Foreign Minister Mahendra Bahadur Pandey said there was an urgent need to upscale investment in the infrastructure sector.
"There are some immediate and long-term priorities from the perspective of reconstruction. We need to ensure that the rubbles of the collapsed buildings are removed in an environmentally friendly way.
A report on post-disaster needs assessment will be presented at the conclave specifying the country's requirement for financial and technical support from donor countries and international aid agencies.
India had responded promptly after the quake struck Nepal, despatching a large number of rescue teams, doctors and disaster relief experts. The Indian Air Force and Army had also deployed helicopters and transport aircraft for rescue efforts and to reach relief.
The powerful earthquake killed nearly 9,000 people, injured 23,000 people and damaged more than 500,000 buildings leaving hundreds of thousands of people jobless.