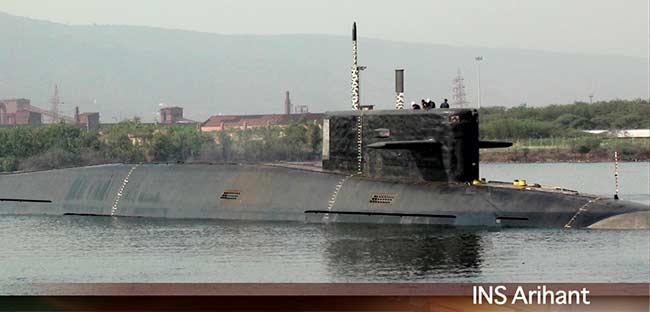 The INS Arihant, country's first made-at-home nuclear submarine is being built in top secret conditions at Visakhapatnam in Andhra Pradesh.
NDTV's Science Editor Pallava Bagla has accessed the first images of the 6,000-tonne vessel, the first of a class of three nuclear-powered ballistic missile submarines with a displacement of 6,000 tonnes. She is designed to carry four nuclear-tipped submarine-launched ballistic missiles called the K-4 which have a range of 3,500 kilometres or a dozen Bo 5 missiles which can strike targets about 700 kilometres away.
The heart of the Arihant is its nuclear reactor, an Indian designed-and-built 83MW pressurized water reactor. The Arihant still faces its biggest trial - the test launch of a ballistic missile while submerged. It is only once that happens that the Arihant will be battle-worthy.
When the submarine is declared fighting-fit, India will become one of only six countries in the world with the knowledge of designing, engineering and operating a nuclear submarine.
Nuclear submarines are the ultimate stealth weapon. Highly mobile and technically capable of remaining underwater for months if required, a ballistic missile submarine effectively gives a nuclear power like India the ability to keep shifting a mobile nuclear base which needs to be prepared to strike after authorized launch codes are transmitted from the country's nuclear command. Detecting nuclear submarines underwater has become a finely calibrated art practiced by the superpowers through decades of the Cold War. The more quiet a nuclear submarine, the more stealthy it is.
India presently operates another nuclear submarine, the INS Chakra, a nuclear attack submarine of the Akula-2 class from Russia. The Chakra does not carry nuclear weapons but would likely be deployed with the Arihant during its pre-commissioning trials to protect this key nuclear asset.
Like other key strategic weapons systems, the INS Arihant is being developed under the aegis of the Defence Research and Development Organization (DRDO), which is accountable to the Defence Ministry. Prime Minister
Narendra Modi
visited the agency in Delhi today and said, "At least five DRDO labs should be identified exclusively for innovation with young scientists up to the age of 35 years. They should be managed by leaders also in the same age group".
(Also read: PM Modi at DRDO Flays 'Chalta Hai' Attitude)
"DRDO is becoming hollow at the bottom," says Dr Avinash Chander, the agency's chief. He said he can induct only about 70 fresh scientists every year instead of the nearly 300 recruits it used to add annually till recently.