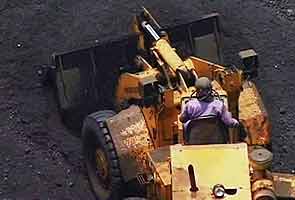 New Delhi:
At a meeting last month held at his office, Law Minister Ashwani Kumar made written changes to a report that the Central Bureau of Investigation (CBI) would submit days later to the Supreme Court on its coal investigation, say sources.
Details accessed exclusively by NDTV squarely contradict what Harin Raval, the Additional Solicitor General, told the Supreme Court a few weeks ago - that the government had not seen the CBI's report.
Both the minister and the CBI have so far not responded to NDTV'S request for comments.
The CBI is reporting to the Supreme Court on its enquiry into an alleged coal scam between 2006 and 2009, especially sensitive for the government because for some of those years, the Coal Ministry reported directly to the Prime Minister.
When it received the report, the Supreme Court asked CBI Director Ranjit Sinha to furnish in writing by April 26, a guarantee that the "political executive" had not seen the document.
That is the eye of the political firestorm that's encircling the government, and could have damaging consequences in court.
At the Law Minister's meeting on March 5, sources said, the list of attendees included the CBI Director, Attorney General GE Vahanvati, Additional Solicitor General Harin Raval, and OP Galhotra, the CBI officer in charge of the coal investigation.
The Law Minister allegedly made written changes, which, if proved, will make it tough for the government to refute charges that he watered down the CBI's findings against the government.
Three days later, on March 8, when the CBI shared its "status report" with the Supreme Court, it faulted the government for not checking incorrect information submitted by private firms who successfully applied for valuable coal fields.
At a hearing on March 12, the Additional Solicitor General, Mr Raval, who was representing the CBI, told the Supreme Court that the government had not seen the agency's report, which was given in a sealed envelope to the judges.
The CBI has now hired its own lawyer, UU Lalit, to represent it in court, promoting speculation that it now sees itself pitted against the government.
In a press release today, the CBI declared that it "will strictly abide by the directions of the Supreme Court, and is not under any pressure from any quarter", something that could shape its affidavit for the Supreme Court.
Government sources say that the Law Ministry did hold "consultations" with the CBI on the coal investigation, but that these meetings were "advisory" and that the CBI was not pressured to alter its report for the Supreme Court.