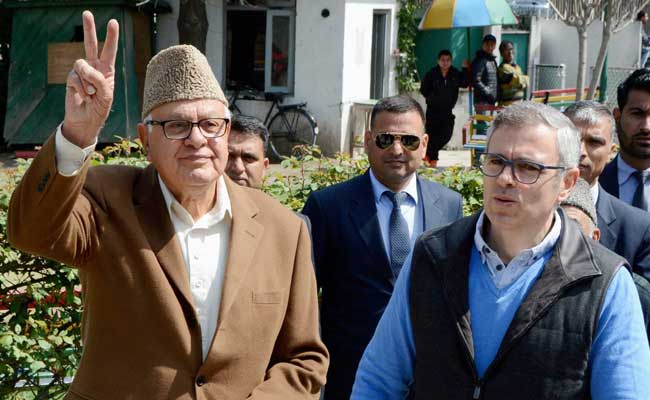 Srinagar:
In a major setback to grassroots democracy in Jammu and Kashmir, the National Conference on Wednesday decided to boycott the upcoming municipal and Panchayat elections in the state. The announcement was made by party president Farooq Abdullah after the NCs core group meeting linked participation in elections with the fate of Article 35A.
The law which defines permanent residents of Jammu and Kashmir and bars outsiders from buying and owning immovable property in the state has been challenged before the Supreme Court.
"We will not participate in Urban Local Body polls and Panchayat elections unless and until Government of India and the state government clears its position and takes effective steps for the protection of Article 35A in and outside the courts," said Mr Abdullah.
The state government has announced plans to conduct municipal elections from October 1 and Panchayat elections from November. Last week, Supreme Court deferred the hearing of Article 35A to January after the government cited possible law and order problems in holding municipal and Panchayat elections.
Independent MLA Engineer Rashid was the first mainstream politician to call for an election boycott until the issue of Article 35A was resolved. After the National Conference decision, former chief minister and PDP president Mehbooba Mufti too criticised the central government for linking the panchayat elections and the Article 35A case.
''The central government's plea in the Supreme Court to link decision on 35A with Panchayat and Urban Body elections was a disastrous idea which has further alienated people and complicated situation on the ground," Ms Mufti tweeted.
Mr Abdullah said that the government's decision to hold elections was taken in a hurried manner without taking into consideration the prevailing situation created by the powers that be by "unnecessarily fiddling" with Article 35A.
Lashing out at the centre, Mr Abdullah said the role of the central government and the present dispensation in Jammu and Kashmir before the Supreme Court goes clearly against the wishes and aspirations of the people of the state.
"They conveniently ignore that this provision was incorporated in the Constitution after thorough discussion between the then state government and Government of India and was made a part of the Delhi Agreement 1952. It was also approved by the states Constituent Assembly as envisaged under Art 370 of the Constitution," he said.