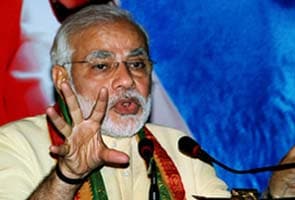 Kolkata:
Gujarat Chief Minister
Narendra Modi
moved his road-show to Kolkata today, where he addressed industrialists and aligned himself with Chief Minister Mamata Banerjee, empathizing with her task to "fill the potholes created by the left in over 30 years of rule" and attacking the union government for discriminating against Bengal.
His recent speeches, most of them televised, are being interpreted as a promotional tour to convince his party to let him run for Prime Minister, but today, Mr Modi said, "A politician may have (the desire to become Prime Minister) but I am not a politician. I am an apolitical person."
(Highlights of Narendra Modi's speech)
His diplomacy was notable today. He alerted the media that he would make no comparison of his government to Ms Banerjee's.
Mr Modi's investment-friendly policies have made him a favourite with India Inc. Ms Banerjee is seen as anti-industry, owing largely to her campaign against Tata Motors, which was forced to shut down its Nano factory in Singur in Begnal and relocate to Gujarat.
The BJP leader's sharpest jabs were reserved today for the Centre, which he rendered deftly and in quick succession, describing it as a "snowball melting in front of our eyes." (
Watch full speech
)
He also castigated the Congress-led UPA for undermining federalism and for discriminating against states where it is not in power, both issues which Ms Banerjee has vented about repeatedly.
Mr Modi has been working hard on nationalizing his brand since his re-election in December. In a series of addresses to high-profile gatherings, he has been selling his model of development in Gujarat as the solution to India's economic slowdown.
(Watch Modi's speech at FICCI)
The aggressive campaign is aimed at pitching him as the BJP's best candidate for prime minister. The party has promoted him recently to posts that will give him a large say in plans for the national elections, but Mr Modi has not yet been declared the BJP's presumptive candidate, despite the clamour of party workers.