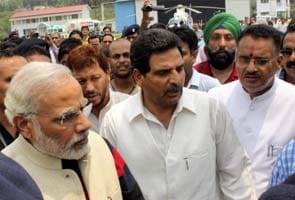 Lucknow:
The BJP today said that reports of
Narendra Modi
's swaggering rescue mission in Uttarakhand are incorrect.
BJP president Rajnath Singh conceded that party workers may have contributed to the impression that the Gujarat Chief Minister visited the state with a team of bureaucrats who evacuated thousands of Gujaratis stuck in Uttarakhand in a day.
"Modi went to Uttarakhand to express his sympathies, and it is being said that he evacuated 15,000 Gujaratis from there. I talked to him and he said that he never gave any such statement," Mr Singh said in Lucknow. He added that he had appealed to party workers to refrain from making statements to politicise the disaster.
After a newspaper front-paged Mr Modi's "Rambo Act" in Uttarakhand, where at least 1,000 people have been killed and 90,000 have been rescued from flash floods and landslides, the Congress attacked the Chief Minister for trying to gain political ground from a disaster zone and for limiting his rescue efforts to people from his own state.
That criticism was echoed, worryingly for the BJP, by its biggest ally, the Shiv Sena, whose president Uddhav Thackeray said that Mr Modi's actions were not in keeping with the large new national role accorded to him by his party as chief of its election campaign.
Mr Thackeray later said he was offering "constructive criticism" for the Chief Minister.
The Congress and the BJP have both mined the Uttarakhand floods for political expedience. After Mr Modi's visit to the state, Home Minister Sushil Kumar Shinde urged VIPs to stay away, warning that their arrivals impede rescue operations. That didn't stop Congress vice-president Rahul Gandhi, who arrived in Uttarakhand on Monday.