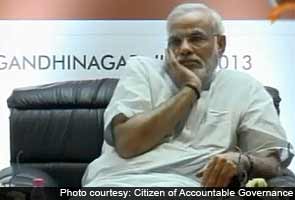 Gandhinagar:
For 30 minutes, Gujarat Chief Minister
Narendra Modi
was publicly walked through a power point presentation on why he needs to do more for Muslims in his state, and apologise for the 2002 riots in which hundreds of Muslims were killed.
Mr Modi, after the presentation, said, "You should listen to everybody's point of view... it is thought provoking." It is the first time that the man, who is the strongest contender for the opposition's prime ministerial candidate, has publicly reacted to a critique of his government's handling of the Gujarat riots.
There were 150 people present, 30 of them young Muslim leaders, at the conclave organised by an NGO in Gandhinagar on Saturday when Wahid Rehman was selected by the moderator to put a question to Mr Modi.
Syed Zafar Mahmood, a known critic of the chief minister, then made his presentation, pointing out that Muslim neighbourhoods in Gandhinagar remain untouched by the state's famous development. He asked why the state has not implemented a scheme for scholarships for minority students funded by the Centre.
And then he said that even if Mr Modi has not been legally ordered to apologise for the 2002 riots, it is his duty to do so, Mr Mahmood said, citing the holy Quran.
Organizers Citizen of Accountable Governance had invited famous Muslim leaders and clerics to attend the conference. Some did not. Mr Modi has been accused by detractors and activists of failing to do enough to stop the worst riots in India since independence. Those allegations, unproven in courts and investigations, are the biggest impediment to his prime ministerial aspirations.
"You can only raise your issues if you interact with him and point out those issues. Evading a discourse is no solution," said Zafar Sareshwala, a prominent Muslim businessman who attended the conclave.