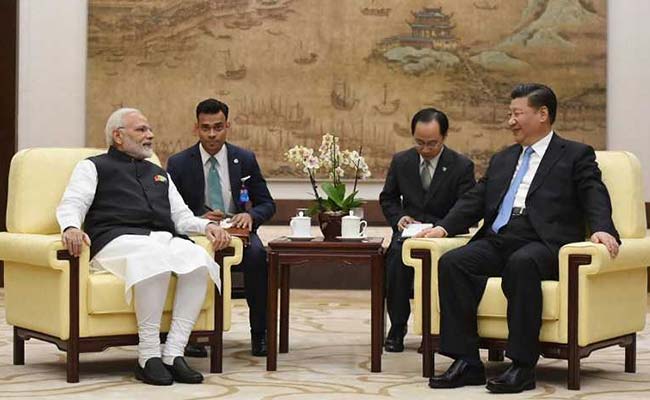 Highlights
PM Modi invited Xi Jinping to an informal summit in India next year
Major Chinese papers have PM Modi-Xi Jinping meeting pictures on Page 1
PM Modi's visit to China comes after the Doklam standoff
Wuhan, China:
Prime Minister Narendra Modi and Chinese president Xi Jinping have agreed to improve communication between the militaries of the two countries to maintain peace at the border, a top government official said today at the end of an ice-breaking trip to China by PM Modi. On a "
Chai pe Charcha
" or discussion over tea today, the leaders of the two Asian giants stressed on the importance to maintain peace in all areas of the India-China border region and that the two countries have the "maturity and wisdom to handle all their differences peacefully through talks".
Here are the top 10 updates from PM Modi's visit to China's Wuhan:
In six meetings in 24 hours, PM Modi and President Xi discussed trade, strategic military relations, tourism and other regional issues. However, there were no agreements or announcements.

The informal summit between PM Modi and Xi Jinping was a "milestone in relations", a Chinese official told reporters after the two-day meet. Chinese Vice Foreign Minister Kong Xuanyou also said that Beijing will not stress on India joining China's Belt and Road infrastructure project.

The two leaders took a long walk by China's iconic East Lake this morning followed by a boat ride and lunch, just before PM Modi left for New Delhi. These "informal meetings between the two leaders will continue," Foreign Secretary Vijay Gokhale said, briefing media on the summit.

In a move that could upset Pakistan, PM Modi and President Xi also agreed to undertake a joint India-China economic project in Afghanistan. Details of this project have not been shared so far.

Inviting the Chinese premier for a similar informal summit in India next year, PM Modi said, "As India and China represented 40 per cent of the world's population, they need to try to work together to tackle global problems."

"China and India are both important engines for global growth and we are central pillars for promoting a multi-polar and globalised world. A good China-India relationship is an important and positive factor for maintaining peace and stability in the world," President Xi said on Friday.

Chinese state media has praised the tone of the "informal summit" in Wuhan. The news was splashed across front pages of several leading newspapers in the country. The extensive reportage indicates the importance being attached to this visit by the Chinese leadership.

Billed by both sides as an informal meeting rather than a summit, with none of the pomp and ceremony of a state visit such as 21-gun salutes, the two leaders held talks on Friday that lasted far longer than expected. It also included a personal tour of a major museum by President Xi. PM Modi gifted to Xi Jinping the paintings of Chinese artist Xu Beihong who taught in Visva Bharati University in West Bengal.

"The friendship between the two countries should continue to grow like the Yangtze and Ganges flowing forward forever," President Xi Jinping said.

Relations between the world's two most populous countries had been on a downward spiral since April 2015 when China launched an economic corridor with Pakistan that crosses through Pakistan-occupied Kashmir. Last year's standoff over Doklam after Chinese forces tried to build a road in the area India believes belongs to Bhutan had the two armies standing eyeball-to-eyeball for 73 days. The two sides "disengaged" on August 28.