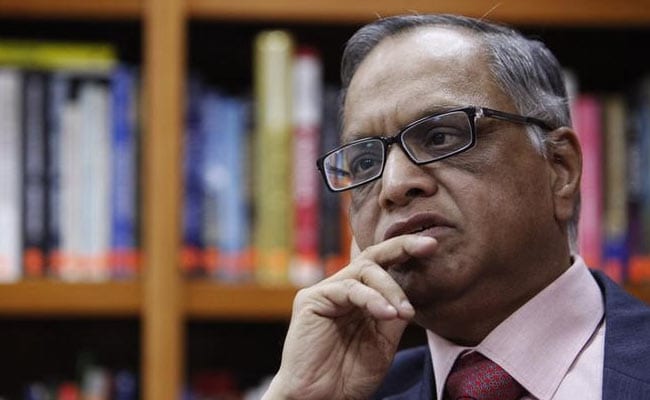 Ahmedabad:
For creating world-class educational institutions in India, it is important to delink education from political influence and keep ideology away, Infosys founder N R Narayana Murthy said in Ahmedabad Saturday.
Ruing that very few educational institutions from the country figure in world rankings, Narayana Murthy also called for increased interaction with countries which boast of a large number of world-class institutions, and also with world-class universities where Indian academics work.
India needs at least 10 educational institutions that can figure in top world rankings, and to achieve this, "first delink education from political influence," he said.
"Unless our politicians realise that the future of the country depends on good quality of education, unless they help education become a pure task of educationists, it is not going to happen," he said.
"Second, we should not bring ideology into education," he added.
Stating that in ancient times India was one of the leading countries where knowledge was pursued, Mr Murthy said the reality today is different.
He was interacting with the audience at the Rajnibhai V Patel Pharminnova Award ceremony where he was the chief guest.
"If we want to be a part of this world, and get respect from other people, then we have to agree to go by a certain norm that everybody in the world accepts. By that norm, India is nowhere (in global rankings)," he said.
It is important to interact with countries "which have formed better higher educational institutions than us," to understand "what they are doing so we can perhaps catch up with them, and some day overtake them", Mr Murthy said.
Among other suggestions made by Narayana Murthy was to give opportunity to students to attend more and more world-class conferences, and invite students from world-class institutions to spend time in universities and colleges in India.
Asked what he thinks are "essential traits of innovators," Mr Murthy said, "Innovation is all about making things cheaper, faster and better."
"Invention is about bringing to existence some new gadgets, some new facilities, in some cases even new ideas. Whereas innovation is by and large about improving what already exists so as to make it cheaper, faster and better," he said.