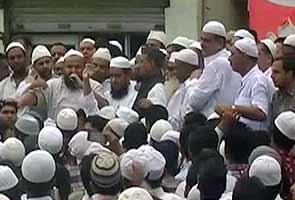 Muzaffarnagar:
The prelude to the riots that have ripped through Muzaffarnagar in western Uttar Pradesh killing 38 people unfolded in the village of Kawal, where in the last week of August, two Jat brothers killed a Muslim boy who was stalking their sister. Less than an hour later, they were lynched to death.
To check the tide of communal tension, local officials banned public meetings. But just three days later, on a Friday, politicians extinguished any chance of a return to normal. After Friday prayers, a meeting was called by religious leaders and politicians in Muzaffarnagar, around 125 kilometres north east of Delhi.
With an audience of about 2,000 people, most of them Muslims, local leaders from the Congress and Mayawati's Bahujan Samaj Party or BSP took the stage.
When asked why they didn't intervene to have the meeting cancelled, local officials claimed they had been misled.
Kaushal Raj, the District Magistrate of Muzaffarnagar, said that religious leaders had said the meeting would focus on collecting a petition demanding justice in the Kawal case, but that the gathering was then hijacked by the politicians - Qader Rana and Jameel Ahmed of the BSP, and Saeed-uz-zaman of the Congress.
All three feature now in an FIR or police case on charges that include inciting communal tension. While Mr Rana, who represents Muzaffarnagar in Parliament was not available for comment, his colleague said that the rally had been sanctioned by local officials. Saeed-uz-zaman's son said the politicians had done no wrong, legally or morally.
The opposition BJP, accused of instigating violence this weekend at a gathering of thousands of Hindu farmers, says that at the Friday session, the District Magistrate was on stage. Kaushal Raj told NDTV, he was blackmailed by the politicians who said that if he did not attend the meeting, they would march to a communally sensitive part of the city.
The BJP also says that two leaders from the ruling Samajwadi Party were present at the gathering, but have not been featured in police cases.
On Saturday evening, at a mahapanchayat, BJP leaders from the area addressed thousands of farmers with allegedly incendiary speeches, charges they have denied. On their way home, farmers were attacked and killed. Since then, 36 people have died.