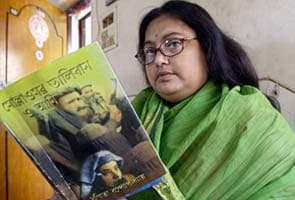 Kolkata:
In a fresh twist, a friend of murdered author Sushmita Banerjee today claimed the latter was under mental trauma over marital problems and planned to return to India on September 6, but was killed a day before. Ms Banerjee's family said there were "loopholes" in the claims.
Shalini Naskar claimed Ms Banerjee told her over chat through a social networking site that she was "mentally down".
"She was under mental pressure. She wanted to return to India and spend her life here," said Ms Naskar, claiming the author's marriage was going through troubled times.
"As per my daily Facebook chat with her on September 4, she was supposed to come to Kabul on September 5, stay at the residence of the owner of the hospital where she worked and catch a flight to India the next morning," said Ms Naskar.
"She had got a financer in Delhi. She was coming to meet him," she added.
Ms Banerjee's in-laws have said she was beaten up and abducted by Taliban gunmen from her residence in Sharan city of Afghanistan's Paktika province in the wee hours of September 5. Her husband Jaanbaz Khan was also tied up after he protested.
Her bullet-riddled body was found on Thursday morning, and buried hours later.
Ms Naskar said that while she was not in a position to say who murdered her friend, she said the author was "undergoing lot of mental trauma inflicted from her husband Jaanbaz Khan's side".
Stating that Ms Banerjee's relatives and friends in Kolkata wanted a "proper probe" into her death, Ms Naskar said there were lot of unanswered questions.
"Why was she buried before any post-mortem was conducted? The in-laws did not care to inform us that she was being buried. We came to know about this after 48 long hours."
"Our appeal to the government is the body should be brought back here along with Jaanbaz," she said.
Ms Naskar also claimed that Ms Banerjee had got into a relationship and was planning to marry, but the author's relatives ruled out any such possibility.
"We had heard about Shalini only once or twice from my sister-in-law (Sushmita Banerjee). Today, we met her for the first time and we were told all these things. We had no inkling of any marital discord. There are a lot of loopholes in what is being said," Debolina Banerjee, wife of the author's younger brother Gopal, told IANS.
Ms Banerjee defied her family to marry Afghan businessman Jaanbaz, with whom she fell in love with in Kolkata. She stayed for years with him in Afghanistan, before coming back to India.
In 1998, she wrote the bestselling memoir "Kabuliwalar Bangali Bou (A Kabuliwala's Bengali Wife)" offering a vivid description of the suffering of women under the Taliban.
She also described her daring escape from the clutches of militants in the book, which made her a household name in Bengal.
She again returned to Afghanistan in January to be with her husband and also document the lives of Afghan women. She had come for a brief visit to Kolkata in July and stayed at her brother's house before returning to Afghanistan.