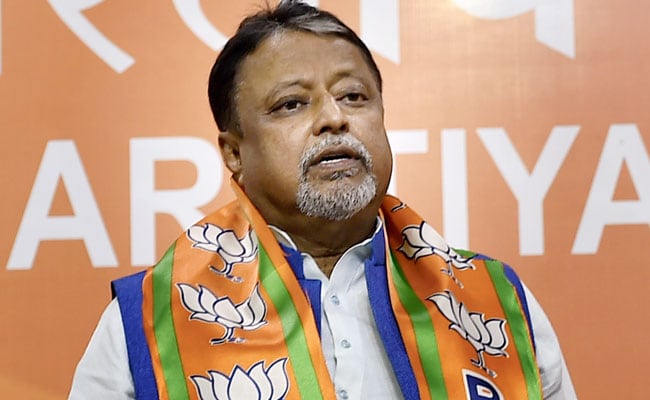 Kolkata:
Mukul Roy, former Trinamool lawmaker who is now the BJP's election manager for Bengal, claims his cellphone is being tapped and he would take legal recourse at a court in Delhi. Mr Roy also said he would file a complaint against the Bengal police and websites carrying the audio clips of the alleged conversations.

Mamata Banerjee has reacted mildly. On Friday, asked about the allegedly tapped chats, she said, "I am also seeing and hearing a lot of things. I am on social network too. I think the law will take its own course. It is no use trying to put pressure on the police. Only the weak do such things."
Over the last week, two audio clips of purported phone conversations between Mr Roy and BJP leader Kailash Vijayvargiya have been widely circulated on social media. NDTV can't independently confirm the authenticity of the recordings.
The first clip was about trying to break the Trinamool's hold over the Matuas, a community whose votes are key to some seats in the North 24 Parganas district.
The other is about transferring Rs 2.5 crore to Hong Kong to a person named Mathew, who claimed he had documents on Trinamool that will "finish the party".
"It is clear that my phone is being tapped. It is highly irregular and an attack on my fundamental rights," Mr Roy told NDTV.
Asked about the allegations about payments to the said Mathew, Mr Roy said, "Who is Mathew?"
"The question doesn't arise," he added. "If someone tells me they have certain documents which are against Trinamool and he wants money for them, I have said on the tape, I am willing to sell my house to raise money for the documents. Nothing wrong in it."
Asked if he was admitting to the conversation, he said, "My phone is being tapped. It is an attack on my moral right". Later, however, he denied that the voice in the audio clip was his.
Mr Roy also said he would take legal action against the portals that are carrying the audio clips. "The infrastructure for this type of tap is only with the police - the Bengal police and portals,' he added.