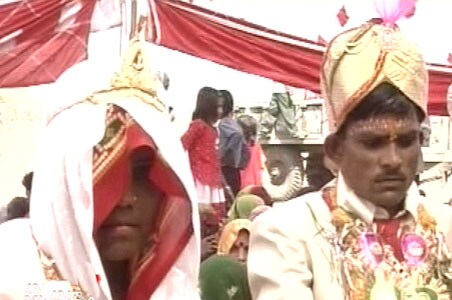 Bhopal, Shahdol:
A shocking case has come to light in Madhya Pradesh where reports suggest that about 151 Dalit and tribal women were put through illegal virginity tests by officials for a government mass wedding programme.
The women had come to Shahdol town to sign up for the government's Kanyadaan Scheme -- a free mass marriage programme for the poor and the backward.

Reports say 14 women were found pregnant and were asked to go back.

So, was the medical test just a precautionary measure or a knee-jerk reaction by an insensitive administration?

"We have told the Collector to send us a report on the matter within seven days. This concerns a woman's dignity," said Amrita Chhapra, member of the State Women's Commission.
Activists and local media have taken it up as violation of human dignity. But government sources in Shahdol tell another story.


Under Kanyadaan, 90,000 women of poor families have got married. But lured by attractive wedding gifts and monetary incentives, even married couples sign up for the ceremony.
It was regular physical check-up and not a virginity test to ensure married and pregnant mothers don't join the queue.
No formal complaint has been made so far by any of the women at the Shahdol ceremony.