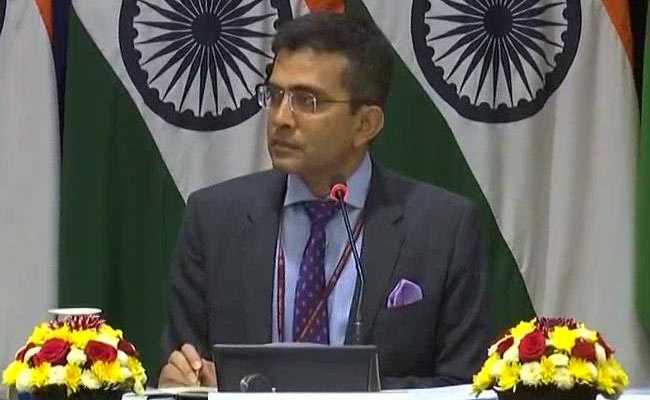 New Delhi:
There have been more than 1,000 incidents of ceasefire violation by Pakistan this year and India hopes that Islamabad will adhere to the 2003 truce agreement, the External Affairs Ministry said today.
External Affairs Ministry spokesperson Raveesh Kumar said ceasefire violations were being used by Pakistan to aid infiltration of terrorists.
Whenever there is an unprovoked attack on the borders, the matter is taken very strongly with the Pakistani side as it involves loss of life and property, he said.
"In 2018 alone, there have been more than 1,000 cases of ceasefire violation by Pakistan. We have maintained that the ceasefire violation by Pakistan is used as a cover to infiltrate terrorists into our territory and we have seen the results of such infiltrations in the past. We hope that Pakistan will realise what it is doing and adheres to the 2003 ceasefire agreement between the two countries in this matter," he said in response to a question.
His reaction comes in the backdrop of a terror attack, in which two soldiers were injured while on a patrol near the Line of Control in Keran sector of Jammu and Kashmir today.
Last week, the Director Generals of Military Operations (DGMOs) of India and Pakistan agreed to "fully implement" the ceasefire pact of 2003 in "letter and spirit" forthwith to stop cross-border firings in Jammu and Kashmir.
However, there have been incidents of ceasefire violation in the past week too.
In response to a question on whether the Ministry of External Affairs has put restrictions on Pakistani academicians to attend a seminar in India next month, Mr Kumar said there are several factors that go into participation of any individual or country in a conference or a seminar.
According to media reports, the Association for Asian Studies and Ashoka University will be holding a conference scheduled next month, which is to be attended by academicians from all over the over, but the MEA has put restrictions on Pakistani scholars.
"One major consideration which goes into before taking any decision, which of course includes the inputs we get from various agencies...a very important input is the state of relationship. If the state of relationship is good and positive, then these things are very smooth and free-flowing, and if you have a relationship which is not very smooth, then of course there are due diligence and all these things come into play. Participation by Pakistan or any other country is a reflection of the current state of the relationship between India and that country," he said.