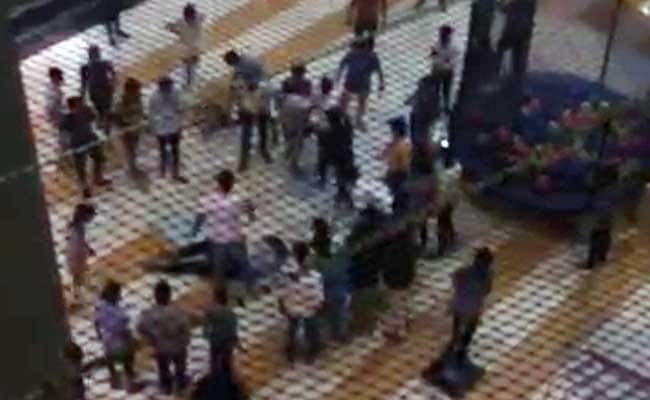 Noida:
In around 30 minutes of pure horror for two Nigerian brothers and their friend on an outing at the mall in Greater Noida near Delhi, a mob surrounded them, chased them, dragged them out of their hiding place and assaulted them using whatever weapons they could find. Brothers Enduranca and Precious Amalawa, both students at a local university, are in hospital.
"We kept crying for help, but no one came, not even the security marshals. I was running but they followed me and wanted to kill me," said Enduranca.
The attack on 21-year-old Enduranca, the younger of the two, was caught in a disturbing video filmed at the Ansal Plaza yesterday evening. Enduranca is seen on the floor, beaten with steel dustbins, a table, stools and whatever his attackers could lay their hands on.
Precious Amalawa is not seen in the footage but he was also stabbed with sharp objects.
"We heard about Africans being attacked so we left the mall after a meal. The autos would not take us. Then more than 500 people gathered outside the mall. My brother and I, we ran back into the mall and hid inside a trial room," Precious Amalawa told NDTV.
The attackers followed them and broke through the trial room.
"They dragged him out and started hitting him," he said, showing the heavily bandaged Enduranca's multiple wounds.
There have been a series of such attacks in Greater Noida, where many African students study and live, after the death of a Class 12 student on Saturday, allegedly because of drugs. Around 1,000 people were marching in protest against the death when a section of them started thrashing three Nigerian students who were in the area shopping.
The attackers said Nigerians were to be blamed for a drug problem in the area, even though the boy's autopsy showed no drugs.
This morning, a poster calling for "Nigerian-free Greater Noida" appeared at the same site, which is a prominent intersection known as Pari Chowk.
NDTV found a group of African students sitting together in the premises of their college, not leaving for fear of attacks.
"There is much hue and cry if Indians are attacked abroad but then why are we being treated like animals?" asked a student.
Responding to a student's desperate tweet, External Affairs Minister Sushma Swaraj spoke to Uttar Pradesh Chief Minister Yogi Adityanath this morning. The student had said that living in Noida was becoming a "life threatening issue".