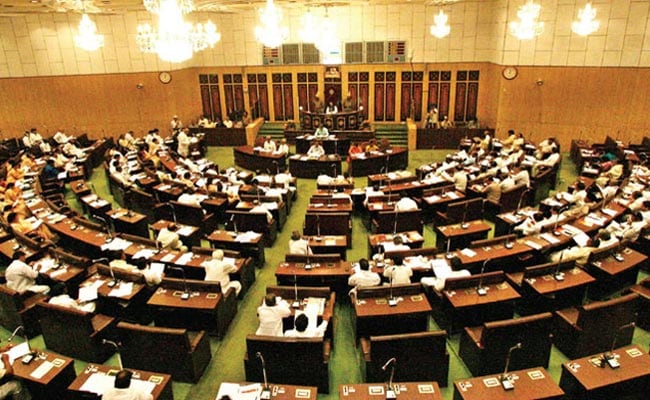 Hyderabad:
The MLAs of the ruling YSR Congress and the opposition Telugu Desam Party came to blows in the Andhra Pradesh assembly yesterday over a government order banning rallies and roadshows. The two parties later blamed each other, calling it a "black day". The TDP slammed what it called an attack on a 70-year-old Dalit leader. The YSR Congress alleged that these attacks and protests are part of TDP chief Chandrababu Naidu's deliberate efforts to disrupt assembly proceedings.
The TDP MLAs, who were protesting against the government order, went to the podium with yellow placards and gheraoed Speaker Tammineni Sitharam during the Question Hour. They tore papers and threw them at Speaker. TDP MLA Dr Bala Veeranjaneya Swamy hurled expletives at Deputy Chief Minister K Narayana Swamy and the YSR Congress MLAs, reported news agency Press Trust of India.
When YSR Congress MLAs VR Eliza and TJR Sudhakar Babu went to protect the Speaker, a TDP MLA pushed them. TDP MLA Gorantla Buchaiah pushed YSR Congress's Vellampalli Srinivas, who fell down leading to tense moments in the House. Sudhakar Babu was injured in the brawl, PTI reported.
The YSR Congress MLAs condemned the behaviour of the TDP leaders and called it a "Black Day" in the history of the state assembly.
"Shocked to see our MLA Dola Swamy being attacked in the assembly by YSRCP MLAs. Today is a Black day for Andhra Pradesh because such a shameful incident has never happened in the hallowed halls of the assembly before," TDP chief N Chandrababu Naidu tweeted.
It seemed like a pre-meditated attack as a response to TDP's clean sweep at the recently held MLC polls, he added, demanding suspension of the MLAs of the ruling party who were involved.
The cruelty on the Dalit community continues even inside the assembly, remarked TDP national general secretary Nara Lokesh.
"Is it a crime of the Dalit MLA, who on the floor of the Assembly raised the issue of proclamation of the government order number 1, which is as old as that of the British period? The government order is brought in only to suppress the voice of people," Mr Lokesh said.
"It is a black day in the history of the state as a person, who crossed 70 years of age and whom I respect as a grandfather, fell victim to such an attack," Mr Lokesh said.
With the attack on the MLA, Chief Minister Jagan Mohan Reddy has once again proved that his war is against the Dalit community, he added.