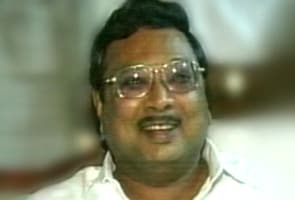 New Delhi:
Chemicals and Fertilisers Minister M K Alagiri answered his first question in the Lok Sabha on Thursday over a year after assuming office in the Union Government.
Alagiri, who is the older son of Tamil Nadu Chief Minister M Karunanidhi, has made very few appearances in the Lok Sabha and the Rajya Sabha as he is not comfortable speaking in English or Hindi. He had sought that he be allowed to speak in Tamil, a request that was denied.
"Question number 161. A statement A to E is laid on the table of the House," Alagiri said in perhaps his first remark during Question Hour in Parliament. His deputy Spirant Jena fielded the supplementary raised by members. Jena was seen seeking the permission from his senior colleague before rising to answer the question.
"I am fortunate to have my question listed as the first question of the day and perhaps it is also the first time the minister is replying to a question," Congress member Charan Das Mahant said in an apparent dig at Alagiri.
He repeated the exercise to the second successive question put to him.
Alagiri had been keeping away from the Lok Sabha and the Rajya Sabha for most of the time as he is not comfortable speaking in English or Hindi and wants to speak in Tamil.
He had sought permission from Speaker Meira Kumar to reply in Tamil as he was not fluent in either Hindi or English.
Citing precedents, senior Lok Sabha officials had then said that ministers should answer the questions either in English or Hindi as files containing the answers to questions are written in English and Hindi.
Finding a way out, the Speaker had told Alagiri that he could answer main question by reading out the reply in English and the supplementary could be fielded by Jena.
The Budget session had seen Opposition creating a ruckus in both Houses over the absence of Alagiri and in the Lok Sabha, members did not allow Jena to reply.
Leader of Opposition Sushma Swaraj had led the attack complaining over the frequent absence of the minister in the Lok Sabha.