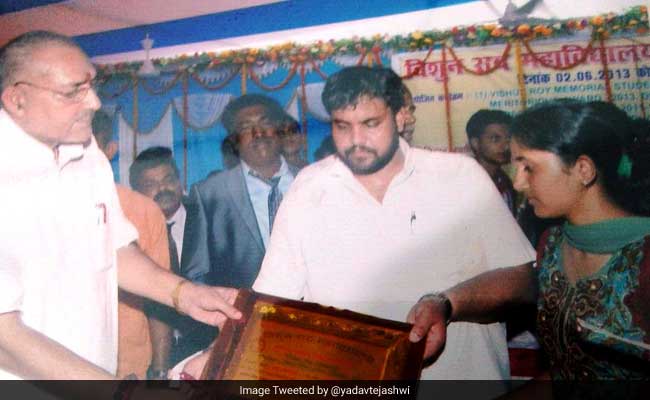 Patna:
Seeking to turn the tables on their opponents, Rashtriya Janata Dal chief Lalu Prasad Yadav and Deputy Chief Minister Tejashwi Yadav have released a photograph of Union Minister Giriraj Singh with Bihar toppers scam main accused Bachha Rai to show their proximity.
Lalu Prasad and Tejashwi Yadav released the photograph on the former's Twitter account and sought to know the "truth" from the BJP.
"What BJP got to say on it? Remember crores of rupees were recovered from this minister's house, whose money it was?" the RJD chief said in his tweet.
His son and the Deputy Chief Minister also joined in the attack on Mr Singh, Union Minister of State for MSME and MP from Nawada.
"The main culprit (Bachha Rai) has cordial relation with a central minister who regularly joins his college functions to distribute prizes to toppers,"the Deputy Chief Minister tweeted.
"All malpractices of dis college wre tking place probably by his encouragement. ModiJi's Minister wanted to open a Medical college with culprit," Tejashwi Yadav alleged.
Bachha Rai, Secretary-cum-Principal of the controversial Vishun Roy College in Vaishali district, is said to be the main accused in the Bihar Intermediate merit scam which drew a lot of flak for the state across the country.
Mr Rai was arrested last Saturday.
Controversial Arts and Science toppers Ruby Rai and Saurabh Shrestha respectively, were students of Mr Rai's college. The BJP has been alleging close proximity between Bachha Rai and Lalu Prasad. Senior BJP leader Sushil Kumar Modi had alleged that Mr Rai worked for the victory of Tejashwi Yadav and Tej Pratap more than Lalu Prasad in the Bihar polls. Lalu Prasad and Tejashwi Yadav's attack on the BJP has triggered a political slugfest in Bihar.