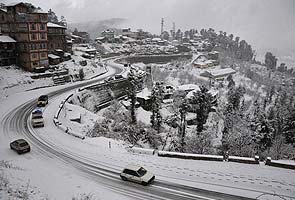 New Delhi:
Heavy woollens were out as rain, snow and fog heralded the onset of chilly days across north India on Tuesday with Leh town in Jammu and Kashmir recording the lowest temperature at a bone-freezing minus 12.4 degrees Celsius.
Temperatures dipped below freezing point across the Kashmir Valley as well. The minimum in Srinagar on Tuesday was minus 1.7 degrees Celsius, minus 2.2 in Pahalgam, minus 7.5 in Gulmarg, and minus 7.8 in Kargil town of Ladakh region.
The mercury also slipped in New Delhi as the city witnessed steady drizzle with chilly winds, India Meteorological Department (IMD) officials said. The maximum temperature dipped four notches below what is the season's average, settling at 18.7 degrees Celsius.
A partly clouded day is expected in New Delhi on Wednesday, though the IMD has not forecast rain. The maximum and minimum temperatures are likely to settle around 21 and 11 degrees Celsius.
Himachal Pradesh's tourist spots near Shimla and Manali onTuesday morning saw mild spells of snowfall at Kufri, Fagu and Narkanda.
Shimla recorded a minimum temperature of 3.6 degrees Celsius on Tuesday, down from Monday's 4.3 degrees Celsius.
The night temperature in Keylong, the state's coldest place, was 2.9 degrees Celsius below freezing point.
Various towns of Punjab and Haryana also saw a sudden dip in temperature on Tuesday following snowfall in some parts of Shimla and upper reaches of the Himalayas early morning.
Chandigarh recorded a minimum temperature at 8 degrees Celsius. On Monday, the maximum temperature in the city was 26.4 degrees Celsius, while the minimum stood at 9.3.
"We are expecting light rainfall on Tuesday night and it would cause a substantial dip in the mercury in the region. By December 16 or 17, dense fog would start enveloping this region early mornings and nights," said an official at Chandigarh meteorological centre.
In Uttar Pradesh, temperatures are set to drop and fog expected in most regions, officials said Tuesday.
Day temperatures in the state on Wednesday would come down by two to three degrees Celsius, they added.
Met officials said the day temperatures on Tuesday were around 28 degrees Celsius while night temperatures were around eight degrees Celsius.
Outskirts of Lucknow were engulfed in fog on Monday night.