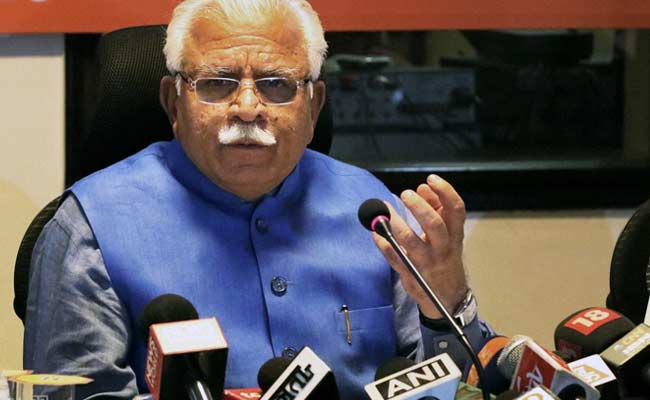 Chandigarh:
Patting his government for ushering in development and transparency in four years of power in Haryana, Chief Minister Manohar Lal Khattar today said that out of the total 176 promises made in the BJP election manifesto, 160 have been fulfilled.
More initiatives will be taken in the fifth year of the BJP government in the state, he added.
At a media address today, Mr Khattar mentioned graft-free and transparent administration, merit in government jobs, online delivery of services and efficient financial management as highlights of the four-year tenure of his government.
Mr Khattar has led the first full-fledged BJP government in Haryana since October 26, 2014.
"The fifth year being the poll year, the government would shift its gear from fourth to fifth to further expedite the development process of the state," he said.
Handing over cards of 'Ayushmaan Bharat: Haryana Health Protection Mission (PMJAY)' to media persons, the Chief Minister said now accredited and recognized media persons in the state would also be covered under the scheme under which they would be provided health cover of Rs. 5 lakh per annum per family.
"This would enable them to get medical treatment facility in any recognized government or private hospital in Haryana as well in other states where the scheme is applicable. He said that 265 hospitals including 83 governments and 182 private have been registered in the state under the scheme," he said.
"The life insurance scheme of Rs. 5 lakh for media persons, as announced earlier, would also be implemented from November 1, the foundation day of the state," he added.
Listing his government's achievements, Mr Khattar said that out of the total 176 promises made in the BJP election manifesto, 160 have been fulfilled.
He said in the last four years, the Haryana budget has been increased by 90 per cent. "About 40,000 appointments have been made so far though Haryana Staff Selection Commission (SSC) and Haryana Public Service Commission (HPSC) and 30,000 to 40,000 more appointments would be made next year," he said.