Highlights
"We will oust BJP from India": Mamata Banerjee at rally in Kolkata
Ms Banerjee has pitched her anti-BJP campaign as a freedom struggle
Trinamool will launch campaign next month with "BJP Bharat Chhoro" slogan
Kolkata:
Mamata Banerjee has called for a new "Quit India Movement". On the anniversary of the 9 August 1942 crusade by India's freedom fighters against the British, she will launch a campaign with the slogan "BJP
Bharat Chhoro
" or "BJP Quit India".
In a blistering attack on the ruling party at the Centre on Friday at Trinamool's annual Martyr's Day rally in Kolkata, the West Bengal Chief Minister also talked cricket. She asked supporters to bowl the BJP out, hit it for a six or beyond the boundary.
The "BJP
Bharat Chhoro
" will continue for at least three weeks.
"We will oust BJP from India. It is our challenge. The centre wants to browbeat us with Sarada, Narada cases but we are not afraid. None of us is guilty," she said.
Hours after her speech, the BJP hit back in kind. State BJP chief Dilip Ghosh also announced the launch of a signature campaign on 9th August against Ms Banerjee. Its slogan: TMC, Quit Appeasement.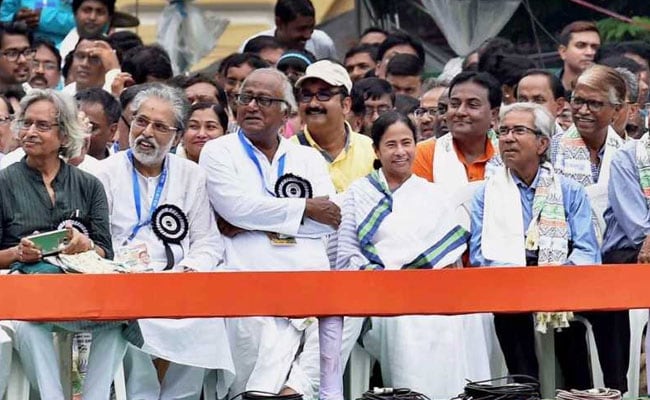 "Mamata Banerjee mentioned BJP in her speech at least 100 times," Mr Ghosh said. "This was the 24th Martyr's Day rally. I wonder how many people will be on the dais on the 25th anniversary next year and how many will be in jail."
The reference to the Narada and Sarada probes which have gathered pace lately. "MP Tapas Pal named in the Rose Valley scam is in hospital. Madan Mitra named in the Saradha case was not to come on stage," he added.
Friday's rally was a soft launch of Ms Banerjee's campaign for panchayat polls in 2018 and general elections in 2019. "Those who think they have the polls in their pocket, they will find their pocket is full of holes. It is already leaking," she said.
18 opposition parties had jointly fielded Meira Kumar for President. "This platform will expand in future. Two more parties will support our vice-president candidate," she claimed.
Her party, the Chief Minister said, would support all parties taking on the BJP. "Bengal will stand beside Sonia Gandhi, Lalu Prasad, Nitish Kumar, Arvind Kejriwal and all those who will oppose the BJP," she declared, accusing the centre of using central agencies like the CBI against political rivals critical of policies like demonetisation and the "hasty" launch of the Goods and Services Tax or GST.
Ms Banerjee's Trinamool has been playing a major role in forging opposition unity and fielding joint candidates for presidential and vice presidential elections, seen as testing the ground for an anti-BJP front in the 2019 national election when Prime Minister Narendra Modi will seek re-election.
The BJP has announced a Mission Bengal aimed at winning the most parliament seats from West Bengal in 2019 and then state elections two years after that. The last set was dominated by Mamata Banerjee, whose party won 34 of Bengal's 42 parliament seats in 2014 and then swept back to power in the state last year.
The BJP has traditionally been a non-player in the state, but party chief Amit Shah has engaged in a rigorous exercise to build the party cadre in Bengal.