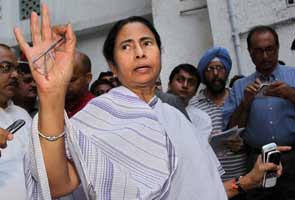 Kolkata:
In an unprecedented move, Mamata Banerjee's government has denied permission to a CPM meeting, which was scheduled to be addressed by former Chief Minister Buddhadeb Bhattacharya. The reason given by Ms Banerjee's government is that the meeting may cause law and order problems.
The CPM's Hooghly district unit had written to the administration on July 23, seeking permission for a meeting at Arambagh inside the local auditorium Rabindra Bhavan on September 9.
But earlier this week, the district authorities replied to the CPM, rejecting their request.
Outraged CPM leaders on Thursday met the state home secretary urging him to review the administration's refusal.
This is the first time that Ms Banerjee's government has denied permission to the CPM for holding a meeting to be addressed by Mr Bhattacharjee.
Recently, Kolkata Police refused permission to the CPM's North 24-Parganas district committee which wanted to hold a meeting in the heart of Kolkata at the same venue where Ms Banerjee held her July 21 rally.