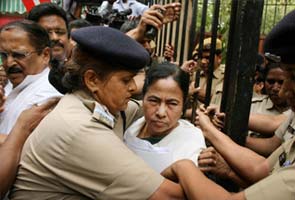 New Delhi:
West Bengal Chief Minister Mamata Banerjee ignored warnings that could have protected her from protesters gathered in Delhi on Tuesday evening, the Delhi Police has said.
In a report to the Home Ministry, the police have said that as Ms Banerjee was approaching the Planning Commission, she decided that her car would use a gate that had not been cleared for her. The police had reportedly alerted her to the fact that demonstrators had gathered at the main entrance, and had suggested that she use the VIP gate.
When asked about this, Ms Banerjee said today, "Not at all. Do you think I am a beggar? I never bow down my head. I consider myself as an LIP (Less Important Person) rather than a VIP."
As she got down from her car and walked in, security personnel quickly formed a ring around her to keep shouting demonstrators at bay. But Ms Banerjee's Finance Minister, Amit Mitra, who was accompanying her, dropped a file and got left behind, the police claims.
Mr Mitra was attacked by the protesters, who were student activists affiliated to the Left. He has been in a hospital in Delhi since last night.
Ms Banerjee felt unwell after the demonstration and cancelled a meeting with the Prime Minister last evening, and her appointment with Finance Minister P Chidambaram today.
"I will come back, but Delhi is not a safe place. I am sorry," she said before taking a private jet back to Kolkata today.
Workers of her Trinamool Congress have attacked Left offices in Bengal since last night in revenge attacks, though Ms Banerjee refused to accept this. "My party workers are passionate, but they listen to me. They will not indulge in violence when I have told them not to," she said.
Follow NDTV for latest election news and live coverage of assembly elections 2019 in Maharashtra and Haryana.
Subscribe to our YouTube channel, like us on Facebook or follow us on Twitter and Instagram for latest news and live news updates.