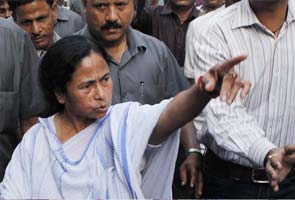 Kolkata:
It's been a year since Mamata Banerjee stormed to power in West Bengal after ending the Left Front's 34-year rule. And the state government is celebrating the occasion by highlighting its achievements in a week-long fair.
"The
Ma, Mati, manush
government of Mamata Banerjee has done so much good work, not only for youth of Bengal but for the whole of Bengal. That's why we are celebrating this occasion," said Trinamool leader Derek O'Brein.
A year in office maybe too short a time to assess her achievements but Mamata Banerjee's first anniversary as Chief Minister has failed to reflect the
Poriborton
or Change which was the punchline of her election campaign. Beyond a few cosmetic changes like repainting the city of Kolkata, the report card for the first Trinamool government is not satisfactory.
But Ms Banerjee says her government has fulfilled the promises it made to the people. Inaugurating the 'Pragati Utsav' yesterday to mark a year's completion of her government, she said, "Most of the job has been completed, except for a few, and we are determined to keep the wheels of progress rolling in the coming years."
The Chief Minister also said that she did not take a single day off in the last one year. "Even when my mother died, I attended office. It will be my endeavour to do more work in coming years."
She, however, acknowledged that her only failure is not being able to return land taken to unwilling farmers in Singur for the Tata Motors project. So, the state government is marking its first year in power by announcing that farmers who did not take compensation would be given Rs 1000 a month and rice at Rs 2 a kg till the matter is settled in court.
Her government had passed a legislation in 2011 so as to return 400 acres of land from the Tata Motors plant to farmers from whom they had been taken. But the issue is stuck in courts.
The last one year has also seen Mamata signing a tripartite pact to restore peace in Darjeeling, encouraging tourists to return to the hilly region.
After her stupendous victory, Mamata has also emerged as a regional power centre. Although her Trinamool Congress is part of the United Progressive Alliance (UPA) coalition at the Centre, she has given the Congress-led government tough times. Especially during the Lokpal debate and setting up of a new anti-terror agency, the National Counter Terrorism Centre (NCTC).
But Ms Banerjee has drawn flak from many including her ally, the Congress, on a variety of issues ranging from perceived autocratic conduct to her habit of making sweeping remarks. And the Left has found plenty of issues to attack the government.
Left Front chairman and CPM state secretary Biman Bose described the celebrations as a 'jamboree'.
"They held a jamboree at a cost of Rs 20 crore today but at the same time they are crying about lack of funds. It is a sheer waste of money when the state needs funds," Mr Bose told reporters. Mamata had met Prime Minister Manmohan Singh earlier this month on the loan waiver.
The CPM leader alleged Left workers, particularly his partymen, were being targeted by the ruling party.