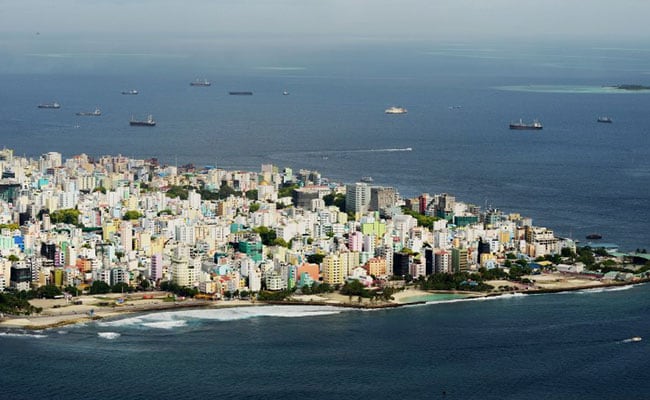 Highlights
Donald Trump, PM Narendra Modi discussed the Maldives crisis
India, US, UK and UN condemned imposition of emergency
China says let Maldives sort out its problems on its own
NEW DELHI:
China does not want the crisis in Maldives to
become another "flashpoint"
between the two neighbours and is in touch with New Delhi over the political crisis, official sources in Beijing have told news agency Press Trust of India. The remarks came after US President
Donald Trump and Prime Minister Narendra Modi
on Friday discussed the political turmoil in the tiny island nation in India's neighbourhood.
The stress laid by Beijing on its effort to ensure that the crisis in the island does not become
"another flashpoint" comes against the backdrop
of last year's 73-day long Doklam standoff, the longest between the two countries.
New Delhi,
along with the US, UK and the United Nations
, have condemned the imposition of emergency by Maldives President Abdulla Yameen after a court ordered his government last week to release nine prominent opposition leaders. Two top judges who delivered the verdict were also arrested. India, like the US and others, want President Yameen to roll back these steps.
In contrast, China, which has been attempting to expand its influence in the Indian Ocean region and is seen to be close to President Yameen's regime, has been advocating a hands-off approach to let the parties concerned in Maldives to sort out their problems amongst themselves.
"Non-interference" in other countries is an important principle of international relations, the foreign ministry in Beijing said on Friday, a message seen to be aimed at New Delhi.
President Yameen hasn't acted so far to reach out to the opposition but a much-diminished Supreme Court after the arrest of two top judges, has been working hard to dilute its own powers. Yesterday, Maldives Supreme Court ordered that all cases would be heard by multiple judges and decided by majority.
India hasn't spoken about a military intervention or addressed the multiple appeals in its formal statement that the exiled former president Nasheed issued to seek India's military intervention. But there have been reports that India's special forces are ready to act, either to evacuate Indian nationals in the island or otherwise.
But Maldives, located near key shipping lanes, has assumed greater importance to China after it began building political and economic ties as part of its so-called "String of Pearls" strategy to build a network of ports in the Indian Ocean region.
India has been uneasy about China's attempt to expand its influence, more so in Maldives where President Yameen has drawn close to China during his time in office. Last year, the island nation had quietly signed a free trade pact with China that New Delhi declared was against its stated policy of "India First".
Friday's remarks made soon after Donald Trump and PM Modi's phone conversation is also seen in context of the US supporting a leadership role for India in the region.
The Trump Administration's National Security Strategy unveiled last December had called for deepening the US strategic partnership with India and support New Delhi's "leadership role in Indian Ocean security and throughout the broader region".
Yesterday, Maldives Ambassador to India Ahmed Mohamed told NDTV that
if there was a perception that China's influence
in Maldives was growing, then "India should reach out to Maldives more often" and also play a more proactive role.