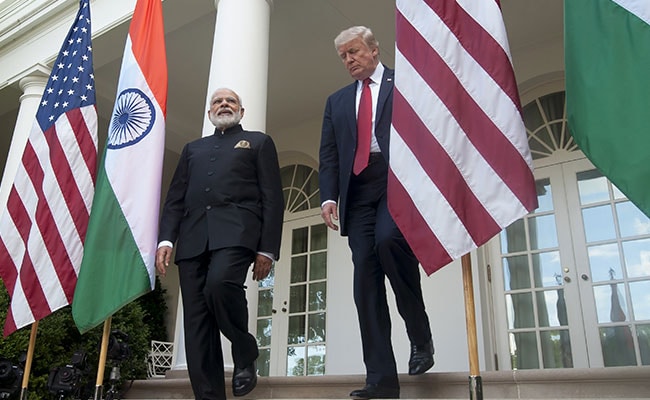 New Delhi:
Prime Minister Narendra Modi and US President Donald Trump spoke on Thursday evening in their first phone call of the year, discussing the political crisis in Maldives and other issues and "pledged to continue working together to enhance security and prosperity in the Indo-Pacific region," the White House said. Maldives President Abdulla Yameen has refused to implement a Supreme Court order to release nine imprisoned opposition leaders, prompting a wave of protests in capital Male.
Here are 10 key points from their conversation:
The White House said President Trump and PM Modi expressed concern about the political situation in the Maldives and emphasised "the importance of respect for democratic institutions and rule of law."

It said the two leaders also affirmed "President Trump's South Asia strategy" and "reiterated their commitment to supporting Afghanistan's security and stability."

They discussed Myanmar and ways to address the plight of the Rohingya refugees, the statement said. Some 680,000 Rohingya refugees are in Bangladesh putting an enormous pressure on the economy of Bangladesh. Myanmar and Bangladesh recently agreed on a roadmap on the return of these refugees to their homes in Myanmar. The US believes this is not the right time for their return.

During their call, Mr Trump and PM Modi also discussed further steps to ensure the de-nuclearisation of North Korea.

The leaders also agreed to strengthen security and economic cooperation "as they look forward to the '2+2' ministerial dialogue between their defence and diplomatic officials in April," the White House said. The '2+2 dialogue' was announced after PM Modi met President Trump at the White House in June 2017.

The dialogue would involve External Affairs Minister Sushma Swaraj and Defence Minister Nirmala Sitharaman from India along with their American counterparts Secretary of State Rex Tillerson and Defense Secretary Jim Mattis.

Maldives, a tiny nation in the Indian Ocean best known as a luxury tourist destination, was plunged into a political crisis last week after its top court ordered the release of the nine opposition politicians, stating that their trials were "politically motivated and flawed". Mr Yameen arrested the court's Chief Justice and another judge and declared a state of emergency.

While exiled former President Mohammed Nasheed sent an SOS to India to help release the political prisoners, Mr Yameen sent envoys to China, Pakistan and Saudi Arabia to brief them on the political crisis. The Maldives government said it offered to send an envoy to India, but New Delhi said "no".

Located near key shipping lanes, the Maldives have assumed greater importance to China after it began building political and economic ties as part of its so-called "String Of Pearls" strategy to build a network of ports in the Indian Ocean region.

Having historically held more clout in the islands, India has sought to push back against China's growing influence there. The Trump administration has launched an effort to deepen military and economic ties with India as a way to balance China's assertive posture across Asia.
Post a comment