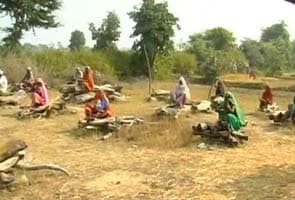 Bhopal:
Twenty farmers in Bujbuja village of Katni district in Madhya Pradesh sit every day on funeral pyres, with kerosene and match sticks at arm's reach. This is a relay protest against acquisition of land by the government for a thermal power plant in the area.
On Diwali, a woman called Sunia Bai, allegedly set herself on fire after she was threatened by the authorities to give up her land. The rest of the protestors say they will do the same. They say the government acquired the plots for the 2000 MW project, against their will.
"I have not given the charge of my land to the government. The compensation money won't last and the land is our regular source of income," says 40-year-old Ram Vishal Patel, one of those who regularly sits on a funeral pyre.
Madhya Pradesh had earlier seen an unusual protest when 51 villagers sat in neck-deep water for 17 days. Their bodies shriveled, covered with rashes and with their skin peeling, these protests forced the Madhya Pradesh government to accept their demands to lower the water level in the Omkareshwar dam in Ghogalgaon village of the state's Khandwa district.
In Dokariya village, five km from Bujbuja, farmers are camped out on the road for the last month demanding that the land acquired for the project be handed back to them.
The state administration says the project and land acquisition was discussed in detail with the farmers. "The land was acquired over a year ago. More than half of the farmers have taken the compensation and now they are protesting," says Kailash Vijayvarghiya, Madhya Pradesh Industries Minister.
He claims the protests are a political conspiracy; the loudest political protests, however have come not from the opposition Congress, but from the ruling BJP's partner in the NDA, the Janata Dal (United).
On Thursday last, the police used batons against protestors and arrested a former JD(U) legislator Saroj Bachchan Nayak; they were protesting against Sunia Bai's death.
JD(U) president and NDA Convenor Sharad Yadav had recently warned the administration against forcibly acquiring land for the proposed power plant.