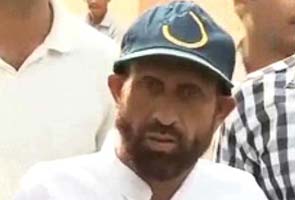 New Delhi:
Sayed Liyaqat Shah, a Kashmiri man who was arrested by the Delhi Police on the allegation that he planned terror strikes in the national capital, was today granted bail by a city court.
The court granted Mr Shah bail on a surety of Rs 20,000 and on the condition that he will not leave India. The court has also asked him to report to the local police station in Kashmir's Kupwara district every month and not to change his place of residence.
The case is being investigated by the National Investigation Agency or NIA. The agency says it has not found any terror links of Liyaqat Shah so far, but investigations are going on.
Liyaqat Shah's arrest on March 20 from Gorakhpur in Uttar Pradesh had generated much controversy. While the Delhi Police insisted that he had entered India via Nepal to execute a terror attack similar to the Mumbai's 26/11 attack to coincide with the festival of Holi, the Jammu and Kashmir government said the 45-year-old was a militant who was headed home as part of an amnesty and rehabilitation scheme for men who had crossed over to Pakistan.
Jammu and Kashmir Chief Minister Omar Abdullah had warned that Liyaqat's arrest could undermine the crucial surrender policy and discourage others from using it. He had argued that a man headed to execute terror strikes would not be accompanied by his family.
Liyaqat's wife, Akhtar-ul-Nisa, said that he flew with her and her teen daughter from an earlier marriage on Pakistani passports to Kathmandu in Nepal and that he was separated from them and arrested at the border.
But the Delhi Police has stuck to its stand and alleged that it had also recovered weapons, including AK-56 rifles and explosives from a hotel in Paharganj.
The court said today, "The alleged recovery from the said room is made in the absence of the accused. The carrying out of the search without the knowledge and in absence of the petitioner creates doubt of the petitioner/accused being involved in terrorist activity. Further, NIA investigations also confirm the same that there is no substantial evidence linking the petitioner/accused in conspiracy to commit terrorist attack on the vital installations in till date."