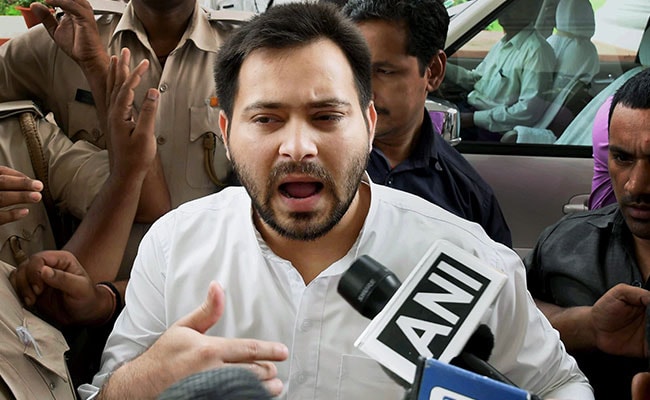 New Delhi:
Bihar leader of opposition Tejashwi Yadav today targetted Chief Minister Nitish Kumar's Janata Dal United and its ally BJP, saying they owe an explanation about the Facebook data mining controversy that has taken the nation by storm. Union law minister
Ravi Shankar Prasad's allegation
that the Congress has benefitted from the leakage of Facebook data of thousands of users in last year's Gujarat assembly election, has triggered a reprisal. The Congress accused the BJP and its ally JD(U) if getting help from Cambridge Analytica, a Facebook subsidiary, to win elections in 2010 and 2014.
"I have never spoken to the Congress about this," said Mr Yadav, whose father Lalu Prasad had crafted the alliance with the Congress and Nitish Kumar's JD(U) to win the 2015 assembly elections in the state with a thumping majority. Last July, Nitish Kumar had dumped the RJD and the Congress to partner with the BJP and form a new government.
Tejashwi Yadav shares a cordial relationship with Rahul Gandhi and the two leaders even met for a private lunch last November before the 47-year-old took over the charge of Congress from his mother Sonia Gandhi.
Tejashwi Yadav kept his focus on Nitish Kumar's party.
Targetting KC Tyagi
, a senior leader from JD(U), whose son allegedly had links with Cambridge Analytica, Tejashwi Yadav said, "Why is KC Tyagi's son hiding? His son should come out and reveal the clients. Why is KC Tyagi defending his son?"
The BJP-led Central government, he said, should order an investigation into the matter. "Who is stopping Ravishankar Prasad from investigating?" he said, taking a dig at the BJP. "There can be no probe when the BJP is involved," he said.
Addressing reporters at parliament house yesterday, Mr Prasad had let loose a barrage of allegations, accusing the Congress of planning to use Cambridge Analytica for the 2019 Lok Sabha elections and boost the profile of its president Rahul Gandhi.
Congress has called the BJP allegations fake news. In a tweet this morning, party chief Rahul Gandhi alleged that the government had "invented" the allegations to deflect attention from a controversy surrounding the killing of 39 Indians in Iraq.
As for his party, Tejashwi Yadav said, "We are a poor party. We don't have a big social media team. People in villages still think Laluji is the Chief Minister".