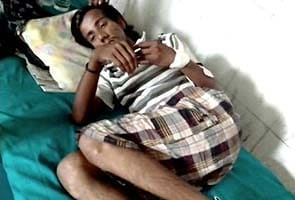 Kolkata:
Last week's attacks by Trinamool Congress workers on CPM offices across West Bengal have had tragic and shocking consequences in Siliguri. A college student, who was arrested last week and sent to hospital after he fell ill, was found chained to his hospital bed. Another youth, also arrested that day, lost his mother on Saturday.
The clashes were triggered when activists from the Left party's student wing, SFI, heckled Trinamool Congress chief Mamata Banerjee and Finance Minister Amit Mitra in New Delhi. The SFI activists have been protesting against the death of its student leader Sudipto Dey in police custody.
Last Wednesday, 19-year-old Santosh Sahani, a first-year student and son of a vegetable seller, was among the 50-odd people arrested after activists from the two rival parties threw stones at each other. When he was taken to court the next day, he fainted and was sent to hospital.
When senior CPM leaders went to see Santosh in hospital yesterday, they saw Santosh's left leg was chained to his hospital bed. Soon, pictures of Santosh in chains were flashed on local TV channels and he was unchained in the afternoon.
But neither the jail officials nor hospital authorities responded to why the teen had been chained. "The boy couldn't even go to the bathroom. When he shouted for help, no one responded," claimed Left leader Shankar Ghosh.
In Kolkata, Left Front chairman Biman Bose said, "Democracy is under attack. Undemocratic activities are continuing."
Another youth, Amit Dey, also arrested after Wednesday's clash, lost his widowed mother, Bani, on Saturday. She died hours after she came to the jail to meet him. She was 44 and used to work in a bakery. Her husband had died when Amit was two years old.
Amit was given parole for six hours on Sunday to perform the last rites. A member of the CPM youth wing, Amit is now back in jail. He was the only child of his parents.