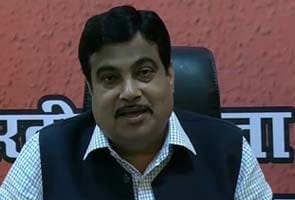 New Delhi:
In a carefully orchestrated defence of Nitin Gadkari against allegations made by India Against Corruption and Arvind Kejriwal, the BJP addressed two press conferences in quick succession this evening.
The first was addressed by Mr Gadkari all by himself, unaccompanied by any BJP leader. He dismissed the allegations saying that calling him a businessman was "laughable". IAC has accused him of getting land illegally from the Maharashtra government to benefit his business empire.
(Read)
"To call me a businessman is laughable," he said. He is the chairman of the Rs 300 crore Purti group, with interests in sugar and power among other things.
"There is nothing illegal in the land that I have got. I have it on lease, I don't have any extra rights over it." He claimed that he was working for "farmers' interests" and underlined that by saying he had written a book on this. He also dismissed the allegation that he had threatened farmers who had wanted their land back. "Only one farmer has said that he wants land returned. He too is farming on that land, please go and see for yourself," he claimed. He also refuted the allegation that water from irrigation dams was being used for his industries.
"I am ready for any inquiry by anyone," Mr Gadkari said, ending the interaction, without taking any questions.
Immediately after this, the BJP's big guns -- Arun Jaitely, Sushma Swaraj, Ravi Shankar Prasad and Prakash Javadekar -- again met the press. They too dismissed the IAC's allegations, saying that the land was acquired for a public purpose (a dam) but was lying unused, so it was given for "another public purpose". The land is being used as a sugarcane nursery, which the BJP says is for the benefit of farmers.
"The land was acquired 22 years ago, the compensation has been given, so where is the illegality," Mr Jaitely said. "They made a mountain of what was not even a molehill."
The better part of the press conference was reserved for attacking IAC. "They have damaged their own credibility, scored a self-goal," Mr Jaitely said. "An organisation which calls itself the crusader has to be careful. Now they are a political party." He had advised the IAC yesterday as well that it needs to be responsible for what it says.
Ms Swaraj said that if the IAC has problems with Mr Gadkari was an industrialist or had got a second term as BJP president, then it has "gone beyond his brief".
Earlier on Wednesday, the top leadership of the BJP including Ms Swaraj and Mr Jaitely among others, watched from a 'war room' inside Mr Gadkari's home in Delhi, the allegations made against the party president by IAC.
The leadership had got together in advance to formulate its strategy in response to the allegations.
The party's leadership had to calibrate its response since it not just involves the BJP president but also that Mr Gadkari and other leaders like L K Advani had asked the party to clean up its act and fight corruption at a national convention just last month. The party had also asked Karnataka chief minister B S Yeddyurappa to step down after he was accused in a mining scam. The BJP has been holding up Parliament as well over allegations of a scam in allocation of government-owned coal blocks to private firms.
Mr Gadkari is already facing accusations from IAC that he pushed the central government for funds to be released for an incomplete irrigation project in Maharashtra. The contractor for the project is known to have close links with Mr Gadkari.