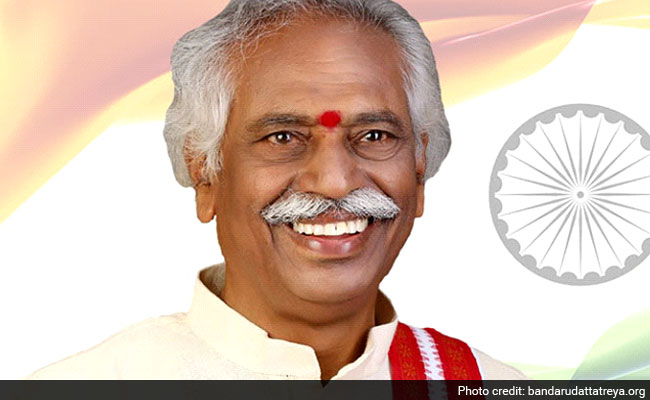 New Delhi:
The Labour Ministry plans to table as many as nine Bills in the upcoming winter session of Parliament starting next month in its bid to improve ease of doing business.
"The government wants to rationalise labour laws and these laws are in the interest of workers and will protect their rights. The purpose of this is employment generation and ease of doing business," Labour Minister Bandaru Dattatreya told reporters in New Delhi .
Explaining further, the minister said: "The present form of laws is impediment to growth, that's why there is a need of reforms."
The legislations that the Ministry plans to table in Parliament include Child Labour (Prohibition & Regulation) Amendment Bill, 2012, and Payment of Bonus (Amendment) Bill, 2015, which have already been approved by the Cabinet.
Mr Dattatreya said his ministry will place the Small Factories (Regulation of Employment and Conditions of Services) Bill before the Cabinet for vetting after which it will be placed before Parliament.
To simplify and rationalise laws, the 44 existing central labour laws will be converted into four codes, of which two -- the Labour Code on Wages and the Labour Code on Industrial Relations -- are being prepared to be placed before the Cabinet.
"Tripartite meetings are over on these two codes. We have tried our best to reach a consensus and there are a few differences, which will be solved. We are preparing a Cabinet note and we expect this to be cleared to be tabled in the coming session," Mr Dattatreya hoped.
The ministry will also place before the Cabinet an amendment Bill for the Employees' Provident Fund & Miscellaneous Provisions Bill and upon clearance, this too shall be placed before Parliament for discussion and clearance.
"That apart, we will be approaching the Cabinet with amendments to the Minimum Wage Amendment Bill and the Employees' State Insurance Act," the minister said.
Asked why the government wants to bring two separate laws on wages, Mr Dattatreya said: "The minimum wage in different forms will be featured in the wage code and the second part touches on a national minimum wage that will be statutory and all state governments will have to implement it," he added.
The ministry will also seek the Cabinet nod for a proposal to amend the Building and Other Construction Workers Related Laws Amendment Bill, which will also be placed in the winter session.