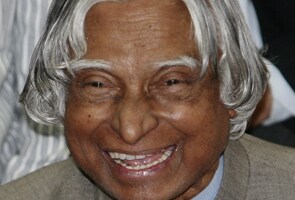 Kudankulam:
Former President APJ Abdul Kalam will play mediator in Tamil Nadu's Kudankulam nuclear plant row. India's missile man, who is a strong advocate of nuclear power, has planned to survey the coastal nuclear installations.
Last week, Mr Kalam had said that he would visit all nuclear reactors across the coastal belts to hold discussions with engineers and scientists regarding all aspects of the project. He is also planning to hold a survey among the protesting Christian fishing community to identify areas of concern. A report would be prepared only after conducting the survey, Mr Kalam said.
Villagers at Kudankulam in Tamil Nadu have launched a series of protests, including an indefinite relay hunger strike, in their demand to close down the upcoming nuclear power plant.
Protestors have expressed concerns over displacement and loss of livelihood in that area.
A third of the plant's 6000-strong contract workers have already left the town out of fear.
The centre has, however, rejected the request for stoppage of work at the plant. It, instead, has assured that the plant - designed to generate more nuclear power than anywhere else in the country - meets international safety standards.
The first of the two reactors at the plant was originally scheduled to start functioning alter this month. The nuclear plant is being built for nearly Rs. 13,000 crore and is expected to help solve Tamil Nadu's considerable power problems.