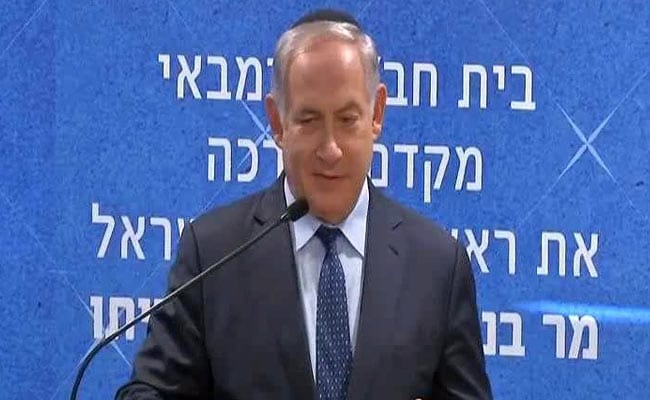 Highlights
Benjamin Netanyahu made a reference to India's 1983 cricket World Cup win
Netanyahu indicated his intent to improve Israel's level of productivity
The Israeli leader was speaking at India-Israel Business Summit in Mumbai
Mumbai:
Calling ties between India and Israel a "match made in heaven", Israeli Prime Minister Benjamin Netanyahu today said that the partnership between the two countries is reaching 'unprecedented heights' and the possibilities are 'boundless'. "Israel is an innovation nation, India is an innovation nation. The two innovation nations must come together to define the future," the Israeli premier, who is on the final leg of his six-day India visit, said at the India-Israel Business Summit in Mumbai.
Making a reference to India's historic cricket World Cup win in 1983, Mr Netanyahu said, "India also knows the value of competition and the glory of competition. How many of you know who won the 1983 World Cup? If you were not in London then you must be on the streets honking when India defeated West Indies. That is competition."
Indicating his intent to shore up Israel's rating on the World Economic Forum's 'Global Competitiveness Index' - an annual measure of a country's level of productivity based on its policies - Mr Netanyahu said, "15 nations ahead of Israel in World Bank competitive index make me lose sleep; not Syria but nations like US, Singapore and Switzerland." India ranks 40th on the list of 137 countries.
Earlier in the day, Mr Netanyahu, the first Israeli prime minister to visit India in 15 years, met top Indian business leaders over breakfast. Pushing for greater entrepreneurial coordination between the two countries, he said, "It is very, very crucial today for you and your Israeli counterparts to meet up, because the future belongs to those who innovate. Innovation doesn't happen by itself. Some of it does. But it can be nurtured, it can encouraged. It also can be discouraged. The job of governments like that of Prime Minister Modi and my own government is to facilitate your competitive advantages and ability to innovate," he said.
Those present at the breakfast included Ajay Piramal, Rahul Bajaj, Adi Godrej, Harsh Goenka, Anand Mahindra, Dilip Shanghvi, Ashok Hinduja, Atul Punj and Chanda Kochhar.
At the business summit, Maharashtra Chief Minister Devendra Fadnavis spoke of his plans to boost agriculture in the state. We are signing an agreement for a huge water grid in Marathwada. We want to collaborate more with Israel for the welfare of our farmers, he said.
Mr Netanyahu also attended a wreath laying ceremony at the Taj Mahal Hotel and then visited Nariman House where he met 11-year-old Moshe Holtzberg, whose parents were killed during the 26/11 terror attacks.