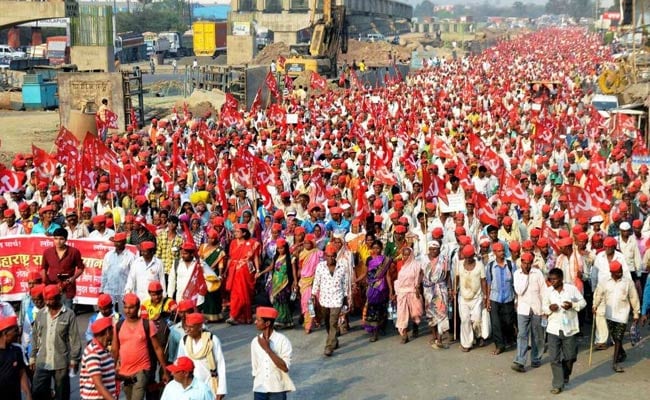 Mumbai:
The Mumbai traffic police has issued an advisory on restrictions and diversions to take place on certain roads between 9 am to 10 pm, in view of the "Long March" by Maharashtra farmers that has reached Mumbai after a grueling five-day 180-km long journey from Nashik.
The
march is led by the Left-affiliated All Indian Kisan Sabha
(AIKS). About 35,000 farmers have walked 30 km each day since Tuesday under the searing sun, resting only for meals and the night's sleep.They demand a waiver of their
loans and better prices
for their produce.
The Long March entered Mumbai at around 10 am this morning from the Anandnagar Toll Plaza, Mulund via Eastern Express Highway and went through Vikhroli, Mata Ramabai Ambedkar Nagar, Chheda Nagar, Suman Nagar, and will reach the Somaiyya Ground in Sion at around 9 pm.
Eastern Express Highway south bound from Anand Nagar, Toll Plaza, Mulund to Somaiyya Ground, Sion, will remain closed between 9 am and 10 pm on Sunday during the Long March, Mumbai Police tweeted in a traffic advisory yesterday.
Heavy vehicles and vehicles carrying goods, which are proceeding from Thane to Mumbai via Eastern Expressway Highway will be diverted via Kalwa, Vitava, Airoli, Vashi Creek Bridge, and those proceeding from Mumbai to Thane will be diverted via Sion-Panvel Highway, Vashi Creek Bridge, Airoli, Vitava, it said.
A lane on the south-bound carriageway on the same route will be kept reserved for light vehicles. However, the speed restriction over the said route adjacent to
the Long March
shall be 20 km per hr.
Keeping in view the likely traffic congestion, people have been advised to avoid travelling on the routes of the Long March, and use the available alternatives instead.